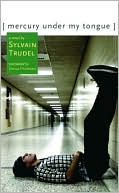 TITLE: Mercury Under My Tongue
AUTHOR:Sylvain Trudel, Sheila Fischman(Translator)
PUB DATE: January 2008
ISBN:9781933368962
This book was sent to me by Richard of Soft Skull Press. It was a quick read at 159 pages.
The book is told in the first person narrative. Frederick Langlois is a 17 year old boy who is dying from bone cancer.
He is your typical teenager. He has the know it all attitude. He write poetry in the hospital. He is seeing a therapist so that he can comes to term with the fact that he is dying. He comments on dying a virgin and that he has never left Canada before. The book takes place in Montreal. We are introduced to various family members of Frederick and fellow patients. As we read we are reading what he is going through and how he feels.
copyright 2010, Cindy (Cindy's Love Of Books)
If you are reading this on a blog or website other than Cindy's Love Of Books or via a feedreader, this content has been stolen and used without permission.