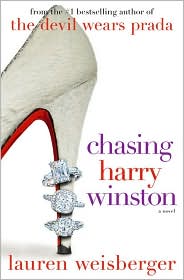 TITLE: Chasing Harry Winston
AUTHOR: Laura Weisberger
ISBN: 978-1-4165-9019-4
PUB DATE: May 2008
This is Laura's third book. You might recognize her name, she is the author of The Devil Wears Prada. I have read all her books and I enjoyed this one.
Leigh, Emmy and Adriana are all best friends from college. They are all entering their 30's and being single is not good. They are all determined to make changes in their lives.
Leigh is the neurotic character. She is in a relationship. She has commitment phobias and doesn't like anyone being close. She is a hard working editor and is beginning to realize that she really doesn't love her fiance even though he fits into her checklist. When she is forced to work with Jesse he makes her rethink things.
Emmy is a newly dumped chef. Her boyfriend has left her for a much younger girl. She wants to be married and have kids. She came very close to having that dream come true but a 23 year old girl took that away from her.
Adriana is the beautiful, spoiled, rich brazilian who uses men as sex objects. She has slept with more men then any of her friends put together.
Emmy and Adriana have challenged each other for a year, Emmy will no longer look at men as future husbands and Adriana will no longer use men as sex objects. Emmy is suppose to have a series of affairs with random men and Adriana is suppose to be a serial monogamist.
Will Adriana grow up and be more responsible or will she remain the spoiled rich girl not doing anything with her life but sleep around and shop?
Will Emmy finally met teh right guyand settle down and get married and have kids?
Will Leigh finally decide whats right for her and change her mind about what the perfect guy really is?
copyright 2010, Cindy (Cindy's Love Of Books)
If you are reading this on a blog or website other than Cindy's Love Of Books or via a feedreader, this content has been stolen and used without permission.