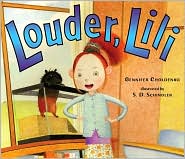 TITLE: Louder Lili
AUTHOR: Gennifer Choldenko
DATE: 2008
Lili was a quiet girl in school. Her teacher was always telling Lili she needed to speak up. When recess would come Lili always stayed inside. She would stay with Lois who was the classes guinea pig and she would read books. Lili didn't take part in class because she was shy. Lili's mother had no idea that Lili had no friends except Lois. One day a girl named Cassidy partnered up with Lili for a project and she took all the credit for it. It was until Cassidy started to hurt Lois ie cut his fur and put glue in his water that Lili finally spoke up. At the end she made a new friend.
Thanks to my son for this great review.
copyright 2010, Cindy (Cindy's Love Of Books)
If you are reading this on a blog or website other than Cindy's Love Of Books or via a feedreader, this content has been stolen and used without permission.