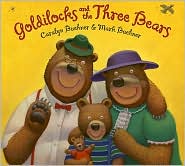 TITLE: Goldilocks and The Three Bears
AUTHOR: Caralyn Buehner & Mark Buehner
Pub Date: 2008
A story about a Papa Bear, a Mama Bear and a Little bear that lived in the woods a long time ago. The eat oatmeal and one day Papa Bear said it was too hot, Mama Bears was too hot too but the little bears was just right and he said something that sounded like "My porch has a bus light." They decided to go for a walk. A little girl came to their house. She walked right into the families house.
She looked around and saw three chairs and started to sing "Big chair, middle chair, little chair too. Somebody's here to bounce on you!" The big chair had no bounce. The middle chair was too soft. The little chair she got on it and said " But that chair looks like its just right. I'll jump me up an appetite!" Of course she breaks the chair.
Goldilocks spots the oatmeal on the table and says "Porridge. porridge, sittin in a bowl, I'm gonna eat until I'm full!" In the big bowl it was too hot, the middle one was too cold and the last bowl was just right. She ate it all up.
"Goodness, I'm a sleepyhead! I think I'll jump right into bed!" The big bed was to hard, the middle one was too slippery, and the little one was just right. She fell asleep.
While she was sleeping the bears came back and noticed the front door opened. Little bear thinks its a wild beast. They go in and notice the chairs. Little bear thinks it was a monster. They notice the porridge and little bears is all gone and he thinks it could be an alien. They go upstairs and notice the beds all messed up. They spot Little bears bed. Papa bear thinks its a wild beast. Mama Bear thinks its a monster. Little bear thinks its an alien. Just then Goldilock opens her eyes and jumps out of bed and yells " Pardon me if I don't stay..Don't feel like jumping anyway!" and she jumps out the window and runs away.
A little twist on the classic tale. This was a little more detailed from my son cause he had to talk about each page and laugh at Goldilocks.
copyright 2010, Cindy (Cindy's Love Of Books)
If you are reading this on a blog or website other than Cindy's Love Of Books or via a feedreader, this content has been stolen and used without permission.