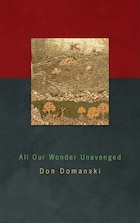 Title: All Our Wonder Unavenged
Author: Don Domanski
Date: April 2007
This was the winner of the Governor General's Literary Award in 2007. It won for Poetry. Its a collection of his poetry. There is 40 beautifully written poems. I had a hard time to pick a favorite to really brag about but too choose one I would have to say Three Ribbons. The reason why?
"I could remind you that the world
is still here in deepest space
that the human heart is still
three ribbons tied to a belief
in flesh and form."
When I was reading them I could actually invision myself there. He writes beautifully. Plus he is Canadian. Born and raised in Cape Breton NS. He now lives in Halifax, NS. He has published eight books of poetry. Two of his books (Wolf Ladder, 1991, and Stations of the Left Hand, 1994) were short-listed for the Governor General's Award for Poetry. In 1999 he won the Canadian Literary Award for Poetry. Published and reviewed internationally, his work has been translated into Czechoslovakian, Portuguese, and Spanish.
copyright 2010, Cindy (Cindy's Love Of Books)
If you are reading this on a blog or website other than Cindy's Love Of Books or via a feedreader, this content has been stolen and used without permission.