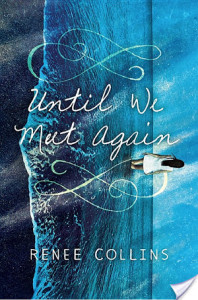 Until We Meet Again
by Renee Collins
Format:
ARC
Published by
Sourcebooks, Inc. on November 3rd 2015
Pages:
336
Goodreads
Genres:
20th Century, Dating & Sex, Historical, Love & Romance, Social Issues, United States, Young Adult
Country clubs and garden parties. The last thing Cassandra wants is to spend the summer before her senior year marooned in a snooty Massachusetts shore town. Cass craves drama and adventure, which is hard when she just feels stuck.But when a dreamy stranger shows up on her family's private beach, claiming that it is his property-and that the year is 1925-Cass is swept into a mystery a hundred years in the making. As she searches for answers in the present, Cass discovers a truth that thrusts Lawrence's life into jeopardy. It won't matter which century he is from if he won't live to see tomorrow.Desperate to save the boy who's come to mean everything to her, Cassandra must find a way to change history...or risk losing Lawrence forever.
I received this book for free from publisher/pr firm in exchange for an honest review. This does not affect my opinion of the book or the content of my review.
I was lucky enough to pick up this book at BEA this past May and I have held off on reading it until now.
I have to begin by saying that I loved the book and I couldn't put it down. I was literally reading this every chance I could get. Its been awhile since I have read time traveling books. I use to be a big fan when they came out and I stopped reading them but now I feel like I want to dig out what ones I have sitting in my tbr pile and read them again. Do you like time traveling books? Have you read any time traveling books?
This is the perfect book to read on a beach during a summer vacation. I was getting home sick reading this because I grew up on the beach and this is your typical summer vacation romance kind of story.
Cassandra is your typical teen age girl. She is on vacation with her mother and new step father and is clearly not having the time of her life because she misses her friends back home. Its when she is on the beach that she is at peace and one night she meets this cute boy named Lawrence. Cassandra knows there is something different about Lawrence but she just can't think what is so different about him until the story line progresses.
Instantly Cassandra and Lawrence connect and you can see the instant love happening. Your typical but not so typical summer love story.
I really loved that it was told in Cassandra's and Lawrence's point of views because you got the back ground story which I think added to the storyline.
It doesn't take long before they both come to realize that Lawrence is from the 1920's and Cassandra is from the present day. The realize that the beach is the only connecting spot for them and they take to spending alot of time on the beach. The only think I kept worrying about was the fact Cassandra was trying to help Lawrence out  and provide him with information and if all that would alter history that has already been written. Could their romance change the course of their history?
You might think this is just a typical summer romance story but there is so much more to the book then just that. There is tons of twist and turns (lets just say a mob family from NYC, mixed with murder, mystery, jealous and tragedy) that make you turn the page to find out what is going to happen next.  I really wanted to zip through the book but a part of me just wanted to bask in the story line because it was so beautifully written and it made me long to be on the beach.
Reading this book came at the perfect time to cure my little reading slump I was in.