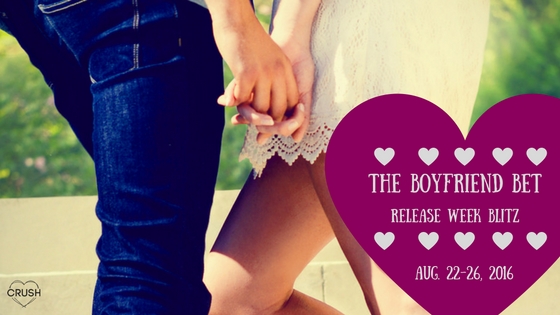 Love the Boyfriend Chronicles Series by Chris Cannon? Then Don't Miss The Boyfriend Bet's Release Week Blitz!
Whether you read Blackmail Boyfriend by Chris Cannon already or not, The Boyfriend Bet is guaranteed to have you LOLing and swooning simultaneously whenever one of Zoe and Grant's PDAs get them sent to detention…yet again. You'll get up close and personal with Zoe Cain, a feisty main character who loves to bake, crochet, and kiss wealthy Grant Evertide – in part – because her older brother hates him. Grant and Zoe not only end up spending many afternoons in detention together, but also falling hard for one another. If it sounds like a book that will do it for you, then don't hesitate to buy it on release day.
Still need a little convincing? Then follow along with The Boyfriend Bet's Release Week Blitz:
August 22, 2016:
Dawn Heslin from Bound 2 Escape – Review
Jordan from Young Adult Book Madness – Review
Kelly Nagy from Book Crushin' – Review
Ashley Kemp from Mama Reads, Hazel Sleeps – Review
Mad Love Book Blog – Review
Raychel from United Indie Book Blog – Review
Becky Paulk from Book Bite Reviews – Review
Seraphina from Seraphina Reads – Review
Aly from Reading Shy with Aly – Review
Liz Castillo from Liz's Reading Life – Review
Rochelle from Cover2Cover – Review
August 23, 2016:
Laura from YA Book Divas – Spotlight
August 24, 2016:
Edit~A from Let's Talk About Books – Review
August 25, 2016:
Jess F. from From Me to You … Video, Photography, & Book Reviews – Interview
August 26, 2016:
Cindy from Cindy's Love of Books – Spotlight
Enter The Boyfriend Bet Release Week Blitz Giveaway:
Check out this fun teaser from The Boyfriend Bet:
Jack shoved his finger in my face. "You can talk to any other guy you want to at this school, but you are not allowed to talk to him."

Had my brother learned nothing over the last sixteen years? Apparently not, and for that he would pay. I turned back to the source of my brother's irritation. "Grant, do you have a girlfriend who would mind if you kissed me to piss off my brother?"

In answer, he leaned down and pressed his mouth against mine. Bam. Instant heat.
About The Boyfriend Bet:
Disclaimer: This Entangled Teen Crush book contains multiple PDAs, after-school detentions, and gambling on the side. Warning: betting on a boyfriend is bad for your health.

Zoe Cain knows that Grant Evertide is way out of her league. So naturally, she kisses him. Out of spite. Not only is Grant her brother's number-one nemesis, but he has zero interest in being tied down to one girl. She's shocked-and secretly thrilled-when they start spending more time together.

Zoe's brother claims Grant is trying to make her his "Ringer," an oh-so-charming tradition where a popular guy dates a non-popular girl until he hooks up with her, then dumps her.Zoe threatens to neuter Grant with hedge clippers if he's lying but Grant swears he isn't trying to trick her. Still, that doesn't mean Grant is the commitment type-even if winning a bet is on the line.
Buy The Boyfriend Bet (Boyfriend Chronicles, #2) by Chris Cannon now: