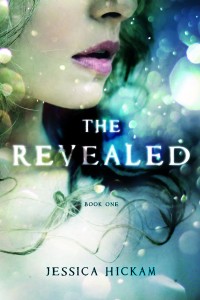 The Revealed Book 1
Format:
eARC
Published by
Spark Press on June 17th, 2014
Pages:
314
Goodreads
Lily Atwood lives in what used to be Washington, D.C. Her father is one of the most powerful men in the world, having been a vital part of rebuilding and reuniting humanity after the war that killed over five billion people. Now he's running to be one of its leaders.
But in the rediscovered peace in this new world, a force has risen. They call themselves The Revealed, an underground rebel organization that has been kidnapping 18-year-olds across the globe without explanation. No one knows why The Revealed is taking these teens, but it's clear something is different about these people. They can set fires with a snap of their fingers and create wind strong enough to throw over a tree with a flick of their wrist. They are unstoppable, and they have targeted 18-year-old Lily as their next victim.
Lily is too close to breaking free from her father's shadow to let The Revealed ruin things, especially her developing relationship with the mysterious Kai Westerfield the son of her father's rival. Lily isn't about to lose her future just when it's starting to look promising. Not without a fight.
I received this book for free from publisher/pr firm in exchange for an honest review. This does not affect my opinion of the book or the content of my review.
This is Jessica Hickam's debut novel. I have to say that I love the cover. Isn't it so pretty?
Just a heads up that the book is only coming out in two weeks and I highly suggest you get your hands on it when it does come out because this is another book that is perfect for reading this summer by the pool.
When I set out to look for summer reads my books have to have some romance, some action and adventure and a little mystery so you don't know what is coming or when its coming and The Revealed hit this on the head. I really enjoyed reading The Revealed. It sucked me in right from the very start.
I should let you know that this is a YA Dystopian book.
The USA has been devasted by a war and close to 5 billion people have been killed. The USA doesn't look like it use to. States have been destroyed with only a few remaining.
Lily has two things against her, she is the daughter of  one of the most powerful men in the world (her father is running for President) who is trying to rebuild and she is 18 years old which means she has been targeted by The Reveals. The Reveals have been formed in the past 5 years and they have been targeting 18 year olds and they are never seen again. The Reveals have spell powers from snapping their fingers to cause fires, to flicking their wrists to cause powerful winds.
Who are these people? Why are the targeting 18 year olds? Where are they going? Will Lily get away before its too late?
Since turning 18 Lily has been confined to her house with no real contact from the outside world. Her parents have locked her in for her own protection but Lily being Lily just wants to live her life and not live in constant fear. So she slowly begins to count the days down until her 19th birthday when she will be safe and sound. Although its hard for her to do when she is being left constant reminders from The Reveal. Lily knows that The Reveals will get to her no matter what and she just wants to live what little life she can before they get her. I mean can you blame her?
My big question was how are they getting those notes to Lily when is she is suppose to be safe and secure in her own house with guards and camera around? Are the notes being left by someone who works for the family? I was always questioning that because really how else are they getting there?
As the story progresses Lily goes through betrayal and loss and she's not sure who she can trust but through it all Kai who Lily has known when she was younger has become her closest ally. After first I have to say that I didn't trust him and kept feeling he was up to something. He came off as a bad boy but it was nice to see that relationship progress considering he didn't like her in the beginning.
I really enjoyed the book and I think this would have been a book I would have picked up on my own because of the cover and I am really thrilled to have discovered a new author. I am excited to read the next book when it comes out.