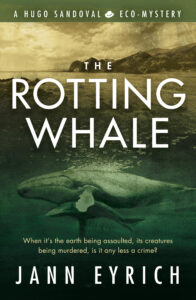 The Rotting Whale: A Hugo Sandoval Eco-Mystery (A Hugo Sandoval Eco-Mystery, 1)
by Jann Eyrich
Goodreads
In this first case in the new Hugo Sandoval Eco-Mystery series, an old-school San Francisco building inspector with his
trademark Borsalino fedora, must reluctantly venture outside his beloved city and find his sea legs before he can solve the mystery of how a 90-ton blue whale became stranded, twice, in a remote inlet off the North Coast.
When a blue whale is struck by a research vessel off the north coast of California, San Francisco's eccentric building inspector Hugo Sandoval is catapulted from his precious San Francisco waterfront nearly two hundred miles north to the headlands of a troubled sheep ranch in response to a call for help from his cetologist daughter.
This episode is set on the turbulent Mendocino Coast against the backdrop of a failing fishing fleet, illegal cannabis grows, and the struggling town of Fort Bragg. At the precarious Chicken Cove, he grapples with the connection between a red tag posted on the historic ranch and the decomposing marine mammal at the foot of its cliffs.
The new eco-mystery series tracks the collision of the man-made environment and nature while simultaneously charting Hugo's own personal evolution as a husband, father, and native son.
A charming cast of secondary characters who revel in the unassuming man's perceptive abilities, while overlooking his many idiosyncrasies, provide assists in solving the mysteries. We meet Carmen, his corporate lawyer ex-wife; T. Ray, his best friend and fellow sleuth; his intuitive assistant Mrs. Dunne who steers their office on Otis Street, as well
as the many regulars who populate Sandoval's San Francisco.

Before I begin my review I quickly have to thank Diane from Saima Agency for contacting me asking if I wanted to read and review this book to which I said yes of course (just an FYI  I have worked with Diane in the past and it was heartwarming that she reached out after many years asking if I wanted to read this) and to Sibylline Press for graciously sending me an advance readers copy of The Rotting Whale.
This is the first book in the new Hugo Sandoval Eco Mystery series by Jann Eyrich. It's a fiction/Mystery/Environment story. The next book The Blind Key will be coming out in the Spring of 2024 and the third one, The Singing Lighthouse will be in the fall of 2024 I am super excited because I will be reading them. I believe this is Jann's debut novel.
This is one of the things I love about book blogging and working with publicists because, for the most part, they reach out with books I have never heard of before. You can always discover a little hidden gem in the books and authors.
I am going to try and keep my review brief only because it's a quick read, a little over 200 pages.
The Rotting Whale follows Hugo Sandoval who is an old-school San Francisco building inspector. Hugo never really ventures outside his home town but when he gets a call from his daughter to come to the remote inlet of the North Coast he knows he has to go. He is called to investigate why a blue whale got washed up in the cove.
They discover that she got hit by a research boat as she was coming towards land because she was pregnant. Which all makes sense but the bigger question is how did she end up in the cove? Nothing makes sense especially when he discovers that the cottage where his daughter's boyfriend is has gotten a red tag from the city. Why did he get it and who gave it to him?
Nothing is adding up and Hugo realizes this is more than just a blue whale being in the cove. Can Hugo uncover what is really going on?
Did you know that the Blue Whale is an endangered species? Did you know that the hearts of the Blue Whales are the size of a small car?
I loved how Jann described the setting and the information about the whales. I loved that Jann took the time to include all that.
If you love mysteries I think you will really enjoy this. It's a quick read that will have you questioning what is the truth and what is lies. I know I thought I had it figured out but when I got to the ending I realized I didn't. I think I want to reread it to see if I missed the clues.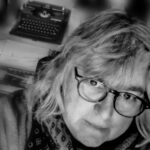 Working as a hands-on, independent woman contractor in San Francisco for twenty years, Jann Eyrich resided in the legendary shacks of Telegraph Hill where the writer was gifted anchorage to the City, along with insight into the lives of the characters she continues to create.
First as a documentary filmmaker, then as a screenwriter, Eyrich's stories always seem to be set within an environmental footprint.
Later, as a writer and an activist in Sonoma County, Jann heard about a real blue whale stranding itself on the Mendocino Coast in 2009 and, with that, the adventures and character of Hugo Sandoval were born.