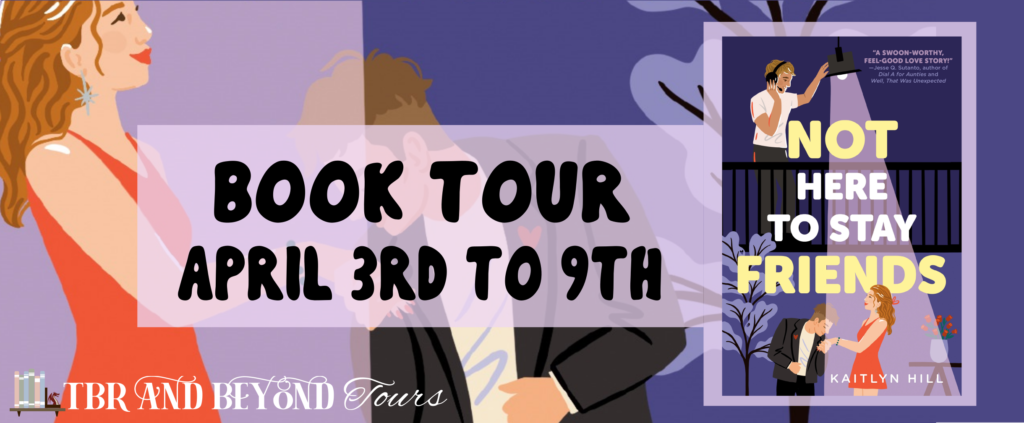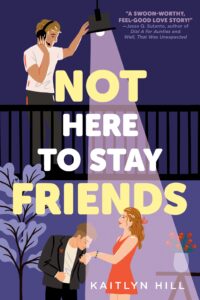 Not Here to Stay Friends by Kaitlyn Hill
Genre: Young Adult Contemporary
Publishing Date: April 4, 2023
Synopsis:
This friends-to-lovers spin on The Bachelor follows two childhood besties reuniting to spend the summer in L.A. after five years apart—but when they both get involved with a teen reality dating show, their lives take an unexpected turn for the unreal.
Sloane McKinney feels like a background character in her own life. But this summer will be different, because she's spending it with her childhood best friend, Liam Daniels, in her dream city, Los Angeles. Sure, she's surprised to find that Liam just happens to have had a Hot Guy glow-up since she last saw him, but so what? A little attraction won't ruin her plans for their fun—and completely platonic—reunion.
What might, however, is that Liam has been roped into working for his producer dad's new teen reality dating show, Aspen Woods's Future Leading Lady. Liam figures Sloane can still hang out with him on set while he fetches coffee for the film crew, or whatever it is that production assistants do. Except it turns out the show is one contestant short . . . and Sloane is the perfect last-minute addition.
Once cameras are rolling, the whirlwind of dating teen heartthrob Aspen Woods feels way more real than Sloane expected, and Liam doesn't exactly enjoy watching it all unfold. But it's behind the scenes where the drama really picks up. . . .
Because wanting to kiss your best friend? That's a plot twist neither Sloane nor Liam ever saw coming.
Book Links:
Goodreads: https://www.goodreads.com/book/show/57634979-not-here-to-stay-friends
Amazon: https://www.amazon.com/Here-Stay-Friends-Kaitlyn-Hill/dp/0593483707
Barnes & Noble: https://www.barnesandnoble.com/w/love-from-scratch-kaitlyn-hill/1139798127
Book Depository: https://www.bookdepository.com/Not-Here-Stay-Friends-Kaitlyn-Hill/9780593483701?
Indigo: https://www.chapters.indigo.ca/en-ca/books/not-here-to-stay-friends/9780593483701-item.html
IndieBound: https://bookshop.org/p/books/love-from-scratch-kaitlyn-hill/17287924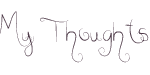 Before I begin my review I have to send out a huge thank you to TBR and Beyond Book Tours for being so accommodating this past week with my review/tour dates because Wednesday, Quebec was hit with an ice storm. I was without power since then and just finally getting it back. Granted it wasn't like the ice storm of 1998 but pretty darn close in my opinion.
Anyways on to my review. I was graciously provided with an Earc of Not Here to Stay Friends by Kaitlyn Hill. I should mention that this is the author's second book, her debut was Love From Scratch which I read and reviewed roughly this time last year and really enjoyed.
When I heard that this was a fun spin on The Bachelor I had to read it.  I use to be a huge fan of the show. Plus it has my favorite trope of friends to lovers. Don't we all use to have that friend that we wished was more?
Also, I love reality tv, it's a guilty pleasure of mine.
The book is about Sloan and Liam, two best friends from childhood. Then Liam's dad's production company started to become a success and they move to LA. The two besties made it a point to keep in touch and keep their friendship going. Sloan is excited because she will be spending the summer in LA with Liam. The only thing is that when they finally meet after so many years they are both a little shocked, but in a good way, at how they both have changed since they last saw each other. In a good way, I should add.
Sadly the summer of sightseeing and taking things off her bucket list don't go quite as planned because Liam tells Sloan he was to work as a PA on the set of his dad's new reality show and she is a little surprised at who the bachelor is. It's Aspen their favorite actor.
Just when things couldn't really get any worse Sloan is roped in to be a contestant on the show because they don't have enough females to take part. It doesn't really take much to convince Sloan to do it because Liam's dad knows Sloan wants to be a screenwriter and he tells her he can help her out.
Speaking of someone else, Liam is really struggling with Sloan being on the show.  He is jealous. He questions himself as to why he is jealous. Could it be because he actually loves Sloan? What will the other do or say when they find out that they are both feeling the same way about each other? Can they take the next step?
I was a little surprised at how quickly I read this. Once I started I couldn't put the book down. There were many times I was laughing and that is always a good sign.  I really enjoyed it and will definitely continue to read more of Kaitlyn's books in the future.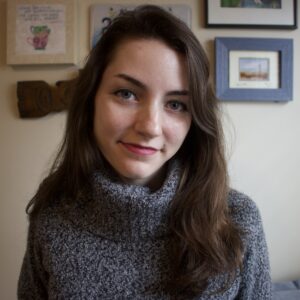 About the Author:

Kaitlyn Hill is a writer, reader, and sweet tea enthusiast who believes that all the world is not, in fact, a stage, but a romance novel waiting to happen. She is the author of Love from Scratch and Not Here to Stay Friends.
Kaitlyn has a BA in Sociology/Anthropology and German Studies, which means that she can tell you way too much about the Communist Manifesto in Karl Marx's mother tongue. Before landing on writing, she worked in roles from city government intern in a small German town to Haunted Mansion Maid at Walt Disney World, and most recently, at her hometown public library.
Aside from books, Kaitlyn's favorite things are giraffes, ABBA, and excessively long naps. She lives with her real life romance hero in Lexington, Kentucky.
Author Links:
Website: https://thekaitlynhill.com/
Twitter: https://twitter.com/thekaitlynhill
Instagram: https://www.instagram.com/thekaitlynhill/
Goodreads: https://www.goodreads.com/author/show/20525224.Kaitlyn_Hill
Tour Schedule:
https://tbrandbeyondtours.com/2023/02/25/tour-schedule-not-here-to-stay-friends-by-kaitlyn-hill/