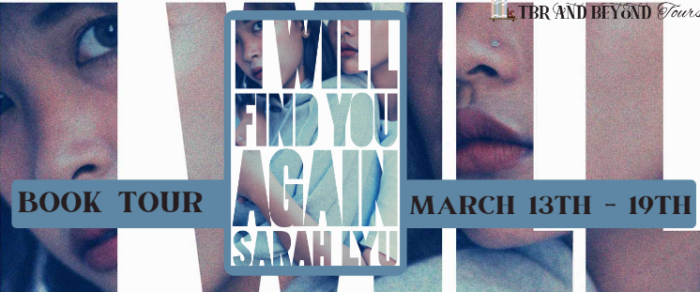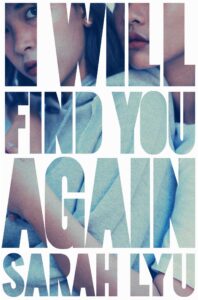 I Will Find You Again by Sarah Lyu
Genre: Young Adult Mystery Thriller
Publishing Date: March 14, 2023
Synopsis:
All the Bright Places meets Ace of Spades in this smart, twisty teen thriller about a girl who can't stop pushing herself to be the best—even after losing her best friend and the love of her life.
Welcome to Meadowlark, Long Island—expensive homes and good schools, ambition and loneliness. Meet Chase Ohara and Lia Vestiano: the driven overachiever and the impulsive wanderer, the future CEO and the free spirit. Best friends for years—weekend trips to Montauk, sleepovers on a yacht—and then, first love. True love.
But when Lia disappears, Chase's life turns into a series of grim snapshots. Anger. Grief. Running. Pink pills in an Altoids tin. A cheating ring at school. Heartbreak and lies. A catastrophic secret.
And the shocking truth that will change everything about the way Chase sees Lia—and herself.
Content Warning: drug use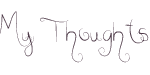 Before I begin my review I quickly have to thank TBR and Beyond Tours for graciously providing me with an eArc of the book and for allowing me to be a part of the blog tour for the book.
I have to admit that I don't know what kind of review I will be leaving because I have so much to say that I don't want to give any spoilers. I will say that I absolutely loved the book and had a hard time putting it down.
When I first got the email about the book I read the synopsis that was provided and it was enough to entice me to want to read the book. I have to admit that after that first time reading it I forgot what it was about.  I think that is one of the good things about ebooks because you just can't flip the book over to read the synopsis. I personally love going into a book blindly and I am so happy that I did that with this one.
Please be advised that there is trigger warnings for drugs, anxiety, depression, and thoughts of suicide.
The main character is Chase who is a young Asian girl who lives in Meadowlark which is a town on Long Island. When you look at Chase from the outside she is a girl who is perfect and is at the top of her class and you know she is going to go places but what you don't see is that behind closed doors she is anything but perfect. She is taking pills to just hold it all together because the pressure is getting to her.
Things only get worse for Chase when something happens to Lia her best friend/girlfriend. Chase is struggling to deal with it all and begins to retraces her steps and go back over all the memories to see if there was something she missed while struggling to grip if this was something that happened on purpose. Will she every find out what happens?
If you're looking for a really good book that will hit you with all kinds of feelings I have to highly recommend this one. Like I said go into this book blindly. Please read it and pass it on to the teen in your life. There is great representation in the book and Sarah is not afraid to tackle the hard topics. I definitely will be reading more of Sarah's work in the future. I know I will be picking up her debut The Best Lies very soon.
Book Links:
Goodreads: https://www.goodreads.com/book/show/61272816-i-will-find-you-again
Amazon: https://www.amazon.com/gp/product/1534465154/
Barnes & Noble: https://www.barnesandnoble.com/w/i-will-find-you-again-sarah-lyu/1141652299
Book Depository: https://www.bookdepository.com/I-Will-Find-You-Again-Sarah-Lyu/9781534465152
IndieBound: https://www.indiebound.org/book/9781534465152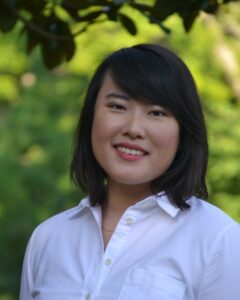 About the Author:
Sarah Lyu grew up outside of Atlanta, GA, and graduated from the University of Pennsylvania. She loves a good hike and can often be found with a paintbrush in one hand and a cup of milky tea in the other. She is the author of I Will Find You Again and The Best Lies. You can visit her at sarahlyu.com.
Author Links:
Website: https://www.sarahlyu.com/
Twitter: https://twitter.com/sarahlyu
Instagram: https://www.instagram.com/sarahlyu7/
Goodreads: https://www.goodreads.com/author/show/15365178.Sarah_Lyu
Facebook: https://www.facebook.com/profile.php?id=100068910032765
TikTok: https://www.tiktok.com/@sarah.lyu
Tour Schedule:
https://tbrandbeyondtours.com/2023/01/30/tour-schedule-i-will-find-you-again-by-sarah-lyu/