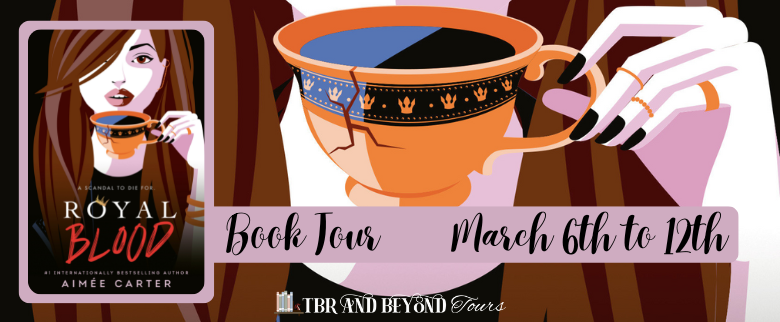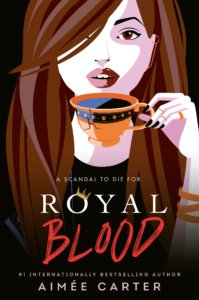 Royal Blood (Royal Blood #1) by Aimee Carter
Genre: Young Adult Mystery
Publishing Date: March 7, 2023
Synopsis:
An American girl becomes the British Monarchy's greatest nightmare in this thrilling new series where royal scandals just got deadlier.
As the King of England's illegitimate daughter, 17-year-old Evan Bright knows a thing or two about keeping secrets.
But when she's forced to spend the summer in London with her father and the royal family, who aren't exactly thrilled she exists, her identity is mysteriously revealed, and suddenly the world is dying to know every juicy lie the press prints about her.
After a fun night turns deadly and Evan becomes the primary suspect in a murder investigation, the escalating rumors and fallout threaten to tear her life apart. As she fights to uncover the truth about what happened, she discovers royal secrets that are even more scandalous than she imagined – secrets that could change the monarchy forever.
And her own may be next.
Content Warning: attempted sexual assault, use of the date rape drug

Before I begin my review I quickly have to thank TBR and Beyond Tours for letting me be a part of the blog tour for Aimee Carter's newest release, Royal Blood. This is the first book in a upcoming trilogy.
As I sat down to write my review I realized that this is my first Aimee Carter book. I have no idea why I haven't read her previous books, I know I have quite a few on my TBR shelves. Perhaps now is the time to take them out and read.
I have to admit that once I started to read Royal Blood I pretty much devoured it in one weekend. I was instantly hooked from the beginning and at times I had a hard time to put it down. To me that is a sign of a really amazing book and an amazing author. I will definitely continue with the series and I will definitely read more of Aimee's books.
As I was reading this I couldn't help but think that this would make a perfect tv adaption. Hopefully that will happen.
Evangeline (Evan) is not your typical 17 year old girl American girl, she is in fact the King of England's illegitmate daughter. She is just about to be kicked out of her 9th boarding school and she is about to be the British Monarch worst nightmare.
Evan has no choice but to spend the summer in London with her father and the royal family. No one is exactly happy and a little shocked when she arrives. They are not happy about this situation because up until now no one knew about Evan and she was kept a secret from everyone. Will shebe able to remain like this or will her secret be revealed to the world? What will the world think when they find out about Evan?
As I mentioned previously Evan is just about to be kicked out of her 9th boarding school and this time it serious. She is in a lot of trouble and its not a slap on the hand kind of offense, she literally set a classroom on fire. Just when things couldn't get worse a mysterious man, Jenkins, who just happens to be the Kings right hand man, steps in to fix the situation hence why is now forced to spend the summer in London.
Things aren't looking up for Evan and things only get worse for her. How will she get out of this situation?
I have always had an interest is stories that involve royality. I loved how Aimee made this one different from other royal stories. There is enough twist and turns to keep you hooked.
I have to say that I felt for Evan and how she didn't exactly have the ideal life. She was her own worst enemy many times throughout the book. I am curious to see where this will go and definitely will keep reading the series to find out.
Book Links:
Goodreads: https://www.goodreads.com/book/show/57679013-royal-blood
Amazon: https://www.amazon.com/gp/product/B0B531W2Y9/
Barnes & Noble: https://www.barnesandnoble.com/w/royal-blood-aim-e-carter/1141693715
Book Depository: https://www.bookdepository.com/Royal-Blood-Aimee-Carter/9780593485897
IndieBound: https://www.indiebound.org/book/9780593485897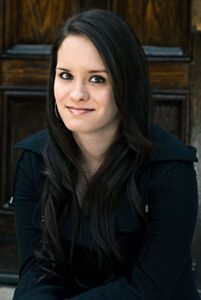 About the Author:
Aimée Carter is a graduate of the University of Michigan and the award-winning author of more than a dozen books, including The Goddess Test series, the Blackcoat Rebellion series, and the Simon Thorn series for middle grade readers, now a #1 international bestselling series under the title Animox and Die Erben der Animox. Her newest middle grade book, Curse of the Phoenix, will be released in June from Margaret K. McElderry Books.
Author Links:
Website: https://aimeecarter.com/
Twitter: https://twitter.com/aimee_carter
Instagram: https://www.instagram.com/aimeemoc/
Goodreads: https://www.goodreads.com/author/show/767317.Aimee_Carter
Facebook: https://www.facebook.com/aimeecarterbooks/
Tour Schedule:
https://tbrandbeyondtours.com/2023/01/25/tour-schedule-royal-blood-royal-blood-1-by-aimee-carter/