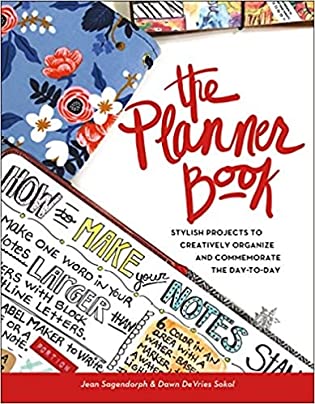 The Planner Book: Stylish Projects to Creatively Organize and Commemorate the Day to Day
by Dawn DeVries Sokol, Jean Sagendorph
Published by
St. Martin's Griffin
Pages:
192
Goodreads
Creatively organize your life!
The Planner Book! will help you design, create, an embellish the perfect planner.
Forget about boring calendars and ancient date books. Nowadays planners are gorgeous, colorful works of art--one part organization, one part art journal, and two parts keepsake. Loaded with projects, how-tos, tips, and tricks The Planner Book! has all the information you need to tap into your creativity, take control of your to-do list, and craft a custom planner.
Featuring color photos and interviews from more than 20 creators, the book is full of ideas to spark your creativity and keep you organized. With 24 projects, from simple tricks like making your own washi tape to more ambitious projects like crafting a leather planner, you'll soon have the best looking to-do list around. Whether you're juggling a hectic work schedule, keeping track of a busy family, or trying to balance your class schedule, getting organized has never been this fun or this cute!

I have been doing various forms of journaling over the years and used various planners until I finally found planner peace with the Always Fully Booked planner. This will be my 4th year using AFB.
With that being said I am sort of creative and I am always looking for ideas and inspiration to use in my planner so when I found this on Book Outlet I quickly added it to my cart. I thought this would be perfect and inspirational but sadly it wasn't. I really wish I would have done more research on this book before buying it.
I think this is probably perfect for someone who wants to make their own planner and accessories but to be honest you can find all this stuff online. I am thankful that I didn't pay full price for this.
The Planner Book is very heavy on making accessories for your planner rather than how to decorate your spreads which I was actually hoping for. I guess that I found the photo to be misleading and the text as well. When you read it you think one thing until you open up the book and discover the opposite.