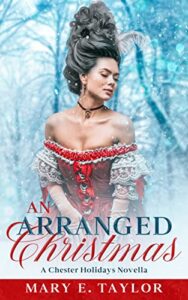 Title: An Arranged Christmas
Series: Book 1 in the Chester Holiday series
Author: Mary E. Taylor
Pud Date: December 6th, 2022
A Chester Holiday's Novella
Can Bain bring forth a Christmas miracle and prove his love to his reluctant bride-to-be?
Not if she has anything to say about it.
Her family faces financial ruin, but Lady Adalyn can't accept that the only way to save them is to marry for money, not love. When her parents arrange for her to wed a stranger despite her objections, she flees her childhood home. Just when she thinks her daring escape has been a resounding success, she finds herself in more trouble than ever.
When her knight in shining armor sweeps in like a fairytale, Adalyn can hardly believe it. He's charming and dashing, with the most beautiful green eyes she's ever seen. She's completely smitten with her handsome stranger. That is, until she realizes who he is…
Viscount Bain Cooke can't believe his luck. His future bride is witty and beautiful, with a strong mind and delightfully sharp tongue. She's less than thrilled with their engagement, but he couldn't imagine a better fit. He only has until Christmas Day to change her mind, and time is running out.
Can Adalyn open her heart to the possibility of love in her arranged marriage?

Before I begin my review I quickly want to thank Netgalley for the eArc of An Arranged Christmas.
Since this is a very short novella I am going to keep my review short and talk about the book.
I read this in one sitting and enjoyed it. I definitely could see this as a full-length story.
The novella opens up with Lady Adalyn running away from her parent's home. She found out that her parents have agreed to an arranged marriage and she is not happy. She wants to be able to have a say in all this and not be forced into it. The only thing is she didn't fully think this running away through because she is not dressed for it.
Just when she thinks things couldn't get worse they do because she is in more trouble than she bargained for. Thankfully a handsome young man comes to her rescue and he isn't too bad on the eyes. She is intrigued by this man until she finds out who he is and she isn't very happy. Can they two get along? Will there be an upcoming marriage?
I have to admit historical romance is not something I read but after reading this novella I have to admit I am intrigued. Hopefully, this will become a full lenght story because I would like to see what happens.