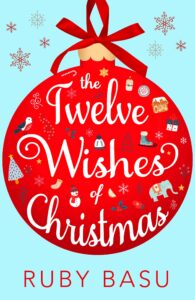 The Twelve Wishes of Christmas
She's here for the perfect Christmas escape…
When Sharmila discovers her late friend, Thomas, has gifted her the holiday of her dreams, she can't pack her bags fast enough. Arriving in Pineford, it's everything she'd ever hoped for and more.
But she's in for another surprise because Thomas has left her with one last request: if she completes his Christmas wish list of festive activities, her chosen charity will receive a big donation. Or so Sharmila thinks.
…He's there to reclaim his family's legacy
Little does she know, she's set to inherit Thomas's estate too, much to his nephew Zach's disbelief. Determined not to see his family's legacy left to a stranger, he's come to Pineford to do whatever it takes to stop Sharmila from fulfilling that list.
When Sharmila and Zach meet, neither are prepared for sparks to fly. For Sharmila's sworn-off love, and Zach doesn't trust her. But with every passing wish they find themselves growing closer. And amongst the twinkling town lights and fallen snow, Sharmila can feel her heart opening up to Zach. But when she learns he's been keeping a secret from her, can Sharmila forgive him and get the happy-ever-after she's always wished for this Christmas?
The Twelve Wishes of Christmas is the perfect book to snuggle up with on those cozy wintry nights. Perfect for fans of Heidi Swain and Jo Thomas.
Purchase Link – https://books2read.com/u/4jolxl

Before I begin I quickly have to thank Rachel from Rachel's Random Resources for letting me be a part of the blog tour  and for graciously providing me a ebook of The Twelve Wishes of Christmas to read for my tour stop today.
This will be my first Christmas read for 2022 and I am excited to share many more Christmas book reviews and spotlights with you.
The first thing that drew me in when I got the email was the cover. I really like it.
I was pleasantly surprised at how fast I read this. I wasn't expecting to read it in pretty much one sitting.
As I was reading The Twelve Wishes of Christmas I couldn't help but think that this could definitely be one of the Hallmark Christmas movies and one that I would want to watch probably over and over again. With that being said I am definitely keeping this on my kindle to reread again.
This is Ruby's debut romance book. Ruby is defnitely an author that I will be keeping my eye on and picking up her future books.
The main character is Sharmila and normally she just works in her aunts cafe and never fully pays attention to the customers until the day Thomas walks in. There was something about Thomas that drew her in.The both discovered their love of Christmas movies. After that day they continued to keep in touch. She never knew that he was sick until the day he died. Something else she didn't know about until she was contacted by his lawyer is that she was mentioned in his will.
Before his death Thomas told her that she should book the month of December off so that she could experience an American Christmas and at first she didn't think she could but a move within her company allows her to. When Thomas died he had gifted her an American Christmas holiday. Sharmila and her best friend Penny arrive to the most beautiful inn and are surprised when they discover they are only there for a few days much to Sharmila's surprise and that's not the only surprise in store for Sharmila this Christmas  holiday. What will her reaction be when she discovers there is more to Thomas then she knew?
There is one stipulation and she has to complete his Christmas wish list of festive activities and if she does there will be a donation to her chosen charity. But little does she know that there is more to this then she realizes. I have to say I loved the list he gave her because she will definitely get to experience the festive holiday.
Of course Thomas's family is not thrilled with what he has done and they will do everything in their powers to make sure Sharmila doesn't get a thing and that means making sure she can't complete the list. They think there is more to Sharmila then they know. So how will the cousins stop Sharmila from completing the list you will just have to read to find out.
This was such a fun read and I think if you love Hallmark's Christmas movies then you will defnitely love this.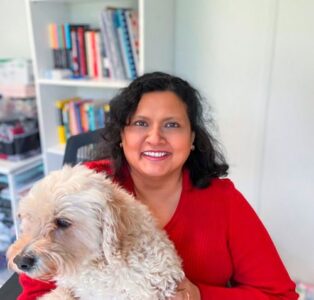 Author Bio
Ruby lives in the beautiful Chilterns with her husband, two children, and the cutest dog in the world. She worked for many years as a lawyer and policy lead in the Civil Service.
As the second of four children, Ruby connected strongly with Little Women's Jo March and was scribbling down stories from a young age. A huge fan of romantic movies, Star Wars, and Marvel, she loves creating new characters and worlds while waiting for her superpowers to develop.
Social Media Links
Twitter – https://twitter.com/writerrb01
https://www.facebook.com/profile.php?id=100064086641263
Website – https://rubybasu.com/
Instagram – https://www.instagram.com/AuthorRubyBasu/
TikTok – https://www.tiktok.com/@authorrubybasu?lang=en