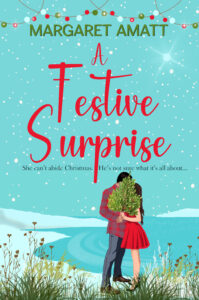 A Festive Surprise
She can't abide Christmas. He's not sure what it's all about. Together they're in for a festive surprise.
Ambitious software developer Holly may have a festive name but the connection ends there. She despises the holiday season and decides to flee to the remote island of Mull in a bid to escape from it.
Syrian refugee Farid has made a new home in Scotland but he's lonely. Understanding Nessie and Irn Bru is one thing, but when glittery reindeer and tinsel hit the shelves, he's completely bemused. Determined to understand a new culture, he asks his new neighbor to educate him on all things Christmas.
When Holly reluctantly agrees, he realizes there's more to her hatred of mince pies and mulled wine than meets the eye. Farid makes it his mission to inject some joy into Hollys' life but falling for her is an unexpected gift that was never on his list.
As their attraction sparkles, can Christmas work its magic on Holly and Farid, or will their spark fizzle out with the end of December?
Purchase Links
UK- https://www.amazon.co.uk/Festive-Surprise-Scottish-Island-Escapes-ebook/dp/B0B6RGFVJQ
US – https://www.amazon.com/Festive-Surprise-Scottish-Island-Escapes-ebook/dp/B0B6RGFVJQ

Before I begin I quickly have to thank Rachel from Rachel's Random Resources for letting me be a part of the blog tour and graciously providing me with an ebook of A Festive Surprise to read for my tour stop today.
This was the second Christmas read for 2022 and I am excited to share many more Christmas book reviews and spotlights with you.
When I got the email about this tour I instantly had to be a part of it because the synopsis sounded really good and the cover is cute.
I should mention that this is the tenth book in the Scottish Island Escapes series. Not sure if you need to read the previous books but from what I can see each book involves different characters. I personally didn't feel like I was missing out on too much and only discovered that this was the tenth book when I started writing my review.
This was a quick read and I managed to read it pretty much in one sitting. If the previous books are anything like this one then I definitely have to make a plan to read them.
The main character is Holly and she hates Christmas and anything to do with the holiday because of an embarrassing situation she was in five/six years ago. As the story progresses you soon find out what happened and why she dislikes this time of year but also why Holly refuses to settle and put down roots and why she is guarded around men. Holly has told no one about what happened and she would like to keep it that way.
Holly is a programmer who is able to work remotely anywhere she wants to even if she is in one spot for a few months. When her best friend, Georgia offers her a cabin on a remote island in Scotland. The perfect location in December, complete isolation away from people and the Christmas holiday. Or so she thinks.
Enter Farid, who is a Syrian refugee. He had to flee Syria because of his political activities. His journey to flee wasn't an easy one. He has made it to the UK and he was able to stay legally but sadly his computer programming isn't being recognized thankfully a business connection through his father, he was offered a job by Archie (who just happens to be Georgia's husband. I should mention that Georgia and Archie have their own book in this series.)  It's not the job Farid was expecting (lumberjack) but he will take it. Archie offers him a cabin to live in which just happens to be that remote island.
I loved that this island was small and everyone was so friendly. Just thinking about it makes me want to go there.
The duo is instantly attracted to each other but what will Holly do when she discovers Farid is almost obsessed with Christmas and whats to know everything about this magical season because he never really has experienced it? The duo decides to make a bargain where Holly will tell him everything he wants to know about Christmas if he will tell her everything she wants to know about home, not his home per se but that home feeling.
Can Holly finally put that embarrassing moment behind her and move on?
I know after reading this that I really want to read the previous books in the series. I love discovering new authors and their backlist titles.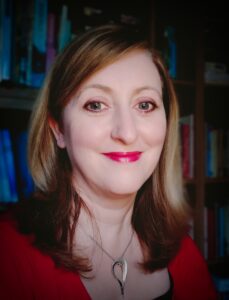 Author Bio –
Margaret is a writer, mummy, wife and chocolate eater (in any order you care to choose). She lives in highland Perthshire in a little house close to the woods where she often sees red squirrels, deer and other such tremendously Scottish wildlife… Though not normally haggises or even men in kilts!
She has published nine books and written many more. Margaret won a short story writing competition in 2012 and her winning entry was performed live to an audience at Pitlochry Festival Theatre as part of their Winter Words Event. This spring boarded Margaret's journey from writing for fun to novel writing – though she still enjoys every minute of it.
Margaret is also a keen amateur photographer, who enjoys drawing, reading, and talking about books.
Social Media Links –
https://www.facebook.com/MargaretAmattAuthor
https://www.instagram.com/margaret_amatt_author
https://twitter.com/amattauthor
www.margaretamatt.com