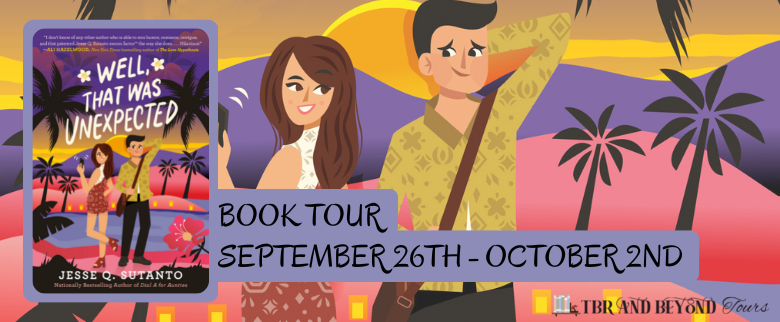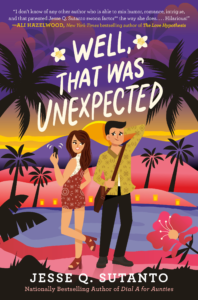 Well, That Was Unexpected by Jesse Q. Sutanto
Genre: Young Adult Contemporary Romance
Publishing Date: September 27, 2022
Synopsis:
An outrageous, laugh-out-loud YA rom-com about a girl who's whisked from LA to her mother's native Indonesia to get back to her roots and finds herself fake-dating the son of one of the wealthiest families there, from the author of Dial A for Aunties.
After Sharlot Citra's mother catches her in a compromising position, she finds herself whisked away from LA to her mother's native Indonesia. It'll be exactly what they both need. Or so her mother thinks.
When George Clooney Tanuwijaya's father (who is obsessed with American celebrities) fears he no longer understands how to get through to his son, he decides to take matters into his own hands.
To ensure that their children find the right kind of romantic partner, Sharlot's mother and George's father do what any good parent would do: they strike up a conversation online, pretending to be their children.
When the kids find out about their parents' actions, they're horrified. Not even a trip to one of the most romantic places on earth could possibly make Sharlot and George fall for each other. But as the layers peel back and the person they thought they knew from online is revealed, the truth becomes more complicated. As unlikely as it may seem, did their parents manage to find their true match after all?

Before I begin my review I quickly have to thank TBR and Beyond Tours (you can click HERE to see the tour schedule) and the publisher for sending me an arc of the book to read.
I have to say that I feel so out of the loop when it comes to Jesse Q. Sutanto's books. For some reason, I never realized she had two previous books (The Obsession which came out in 2021, and The New Girl which came out in February of this year), how did I miss that? I quickly added those to my wishlist to pick up along with her middle-grade book Theo Tan and the Fox Spirit. I am sure I will love them if they are anything like her other books.
I was beyond thrilled when I got accepted to be a part of this book tour. I loved both Dial A for Aunties and Four Aunties and a Wedding. After reading the synopsis I knew I wanted to read it and was one hundred percent confident that I would love the book and I can honestly say I absolutely loved it. I managed to read this pretty much in one sitting. This will definitely be bought and reread.
Jesse is definitely one of my favorite authors. The three books I have now read of hers have been page-turners, hard to put down, and funny. I don't think I have laughed this much while reading a book. I always have a hard time putting her books down and devouring them pretty quickly.
Well, That Was Unexpected is a YA rom-com. The book is told from the dual perspective of two teens. The book beings with one of the main characters, Sharlot in sunny California. Sharlot is caught in a very compromising situation with her boyfriend by her mother. Her mother freaks out and whisks her to Indonesia. Once there she takes her phone.
Now in Indonesia George (George Clooney Tanuwijaya) is caught by his father in a very compromising situation. Nothing quite like Sharlot's but enough that it was embarrassing to him as well as his father. As parents, we don't want to know that our kids are doing these kinds of things. George thinks it's harmless and it's what boys do. George's dad freaks out and removes his phone and computer from George. One thing about George is that he comes from a wealthy family and they don't need this to come out and cause a scandal for the family.
In both situations, I was laughing and dying and the second-hand embarrassment of the two. Kids don't want to be caught in those situations by their parents.
Now we know that that can be just the story right? Well, George's dad thinks to fix the situation he has to set his son up on a date with a real person with the help of George's sister, Eleanor Roosevelt. Meanwhile, Sharlot's mother decides Sharlot needs distraction from wanting to lose her virginity. So both parents decide to basically catfish each other and pretend to be the kids. As I was reading their text exchanges I knew it was adults speaking and not teens. They were fun to read. But what will Sharlot and George think once they find out?
What will happen when the teens meet face to face? Let's just say it's not going to be easy at first but what happens next turns out to be a beautiful thing for all those involved.
I loved how Jesse made you feel like you were there with her writing of the setting and food. It's always nice to learn a little something about where the book is taking place. I even googled some images to make it feel like I was there.
Book Links:
Goodreads: https://www.goodreads.com/book/show/59382071-well-that-was-unexpected
Amazon: https://www.amazon.com/gp/product/0593433971/
Barnes & Noble: https://www.barnesandnoble.com/w/well-that-was-unexpected-jesse-q-sutanto/1140956682
Book Depository: https://www.bookdepository.com/Well-That-Was-Unexpected-Jesse-Q-Sutanto/9780593433973
Indigo: https://www.chapters.indigo.ca/en-ca/books/well-that-was-unexpected/9780593433973-item.html
IndieBound: https://www.indiebound.org/book/9780593433973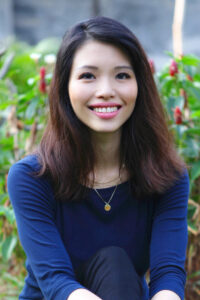 About the Author:
I grew up going back and forth between Jakarta and Singapore and consider both places my homes. I was fortunate enough to do my Masters in Creative Writing at the University of Oxford, which is surely one of the most gorgeous places in the world.
I am passionate about women's rights and diversity in publishing. I regularly do giveaways where I critique queries or the first few pages, and I am especially interested in helping writers from marginalized communities. If you are a writer from a marginalized community, do hit me up! I love hearing from other writers, even if it's just to say a quick hello.
Author Links:
Website: https://www.jesseqsutanto.com/
Twitter: https://twitter.com/thewritinghippo
Instagram: https://www.instagram.com/jesseqsutanto/
Goodreads: https://www.goodreads.com/author/show/19278992.Jesse_Q_Sutanto
Facebook: https://www.facebook.com/JesseQSutanto/
Tour Schedule:
https://tbrandbeyondtours.com/2022/08/23/tour-schedule-well-that-was-unexpected-by-jesse-q-sutanto/