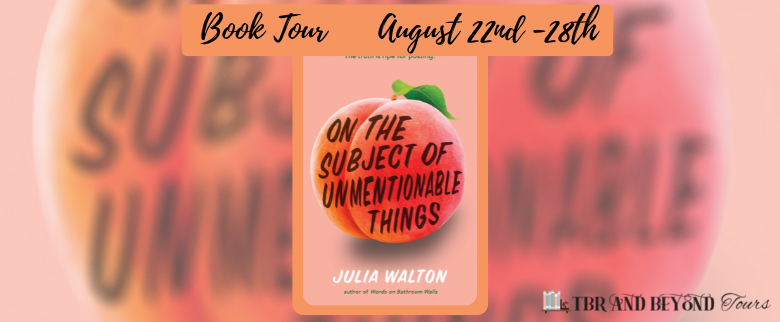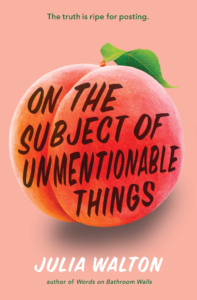 On the Subject of Unmentionable Things by Julia Walton
Genre: Young Adult Contemporary
Publishing Date: August 23, 2022
Synopsis:
A girl rewrites sex education, one viral post at a time, in this fiercely honest and delightfully awkward novel by the award-winning author of Words on Bathroom Walls.
Phoebe Townsend is a rule follower . . . or so everyone thinks. She's an A student who writes for her small-town school newspaper. But what no one knows is that Phoebe is also Pom—the anonymous teen who's rewriting sex education on her blog and social media.
Phoebe is not a pervert. No, really. Her unconventional hobby is just a research obsession. And sex should not be a secret. As long as Phoebe stays undercover, she's sure she'll fly through junior year unnoticed. . . .
That is, until Pom goes viral, courtesy of mayoral candidate Lydia Brookhurst. The former beauty queen labels Phoebe's work an "assault on morality," riling up her supporters and calling on Pom to reveal her identity. But Phoebe is not backing down. With her anonymity on the line, is it all worth the fight?
Julia Walton delivers a brutally honest novel about sex, social media, and the courage to pursue truth when misinformation is rife. Who knew truth could be so scandalous?
Content Warning: Doxxing and harassment
Book Links:
Goodreads: https://www.goodreads.com/book/show/58094178-on-the-subject-of-unmentionable-things
Amazon: https://www.amazon.com/Subject-Unmentionable-Things-Julia-Walton/dp/0593310578/
Barnes & Noble: https://www.barnesandnoble.com/w/on-the-subject-of-unmentionable-things-julia-walton/1140555560
Book Depository: https://www.bookdepository.com/On-Subject-Unmentionable-Things-Julia-Walton/9780593310571
Indigo: https://www.chapters.indigo.ca/en-ca/books/on-the-subject-of-unmentionable/9780593310571-item.html
IndieBound: https://www.indiebound.org/book/9780593310571

Before I begin my review I quickly have to thank TBR and Beyond Tours (you can click HERE to see the tour schedule) and the publisher for sending me an arc of the book to read.
This is Julia's third novel and after reading the description I was intrigued and wanted to read it.
This was pretty much a quick read and I read it in about a day and a half. I was instantly hooked and wanted to keep reading this. I definitely did not want to put it down. If Julia's previous books are anything like this then I definitely want to read them.
Another thing I enjoyed about the book was the additional elements from the main character, Phoebe's blog, Twitter, emails, texts and etc I think it adds just another dimension to the book. I plan on picking up a finished copy to see how they look in the book since I read an eArc of it.
I am clearly not the demographic for this book but as a parent, I think it's an important book to read and have our teens read. I admit it made me uncomfortable and that is because I am looking at it through a parent's eye and we want our kids to know things but yet we don't if that makes sense? Growing up this kind of book never existed and I wish it would have. This was a taboo and uncomfortable topic and no one wanted to talk about it. Sadly it still seems to be a taboo and uncomfortable topic.
The main character is Phoebe, a high school student who follows things to the tee. She is a straight-A student and writes for her high school paper. (I loved that the storyline takes place in a small town.) What her small town doesn't know is that Phoebe is actually Pom, an anonymous teen who is rewriting sex education on her social media accounts. I should mention Phoebe is curious and she wants everyone to have the right information. Everyone is loving it except one person and that is Mrs, Brookhurst who doesn't hold back on her criticism of Pom calling Pom a pervert. This was why Phoebe remained anonymous. But can she remain anonymous? What will people think about her if they find out?
Without giving too much away I suggest you pick it up to read. Julia did a perfect job bringing such important topics to light.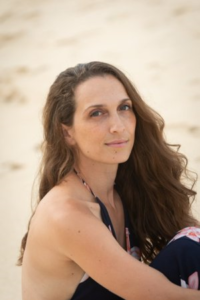 About the Author:
JULIA WALTON is the award-winning author of Words on Bathroom Walls (now adapted to a major motion picture!) and Just Our Luck. Her third novel, On the Subject of Unmentionable Things, is set for release on August 23, 2022. She received an MFA in creative writing from Chapman University and a BA in History from UC Irvine. Julia lives with her husband and children in Huntington Beach, CA.
Author Links:
Website: https://www.juliawalton.com/
Twitter: https://twitter.com/JWaltonwrites
Instagram: https://www.instagram.com/jwaltonwrites/
Goodreads: https://www.goodreads.com/author/show/14073863.Julia_Walton
Tour Schedule:
TOUR SCHEDULE: On the Subject of Unmentionable Things by Julia Walton