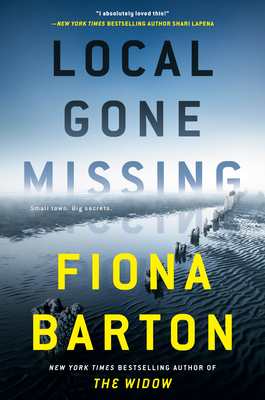 Local Gone Missing
by Fiona Barton
Published by
Berkley Books on June 14, 2022
Pages:
384
Goodreads

Detective Elise King investigates a man's disappearance in a seaside town where the locals and weekenders are at odds with each other in this rich and captivating new novel from the New York Times bestselling author of The Widow.

Elise King is a successful and ambitious detective--or she was before a medical leave left her unsure if she'd ever return to work. She now spends most days watching the growing tensions in her small seaside town of Ebbing--the weekenders renovating old bungalows into luxury homes, and the locals resentful of the changes.
Elise can only guess what really happens behind closed doors. But Dee Eastwood, her house cleaner, often knows. She's an invisible presence in many of the houses in town, but she sees and hears everything.
The conflicts boil over when a newcomer wants to put the town on the map with a giant music festival, and two teenagers overdose on drugs. When a man disappears the first night of the festival, Elise is drawn back into her detective work and starts digging for answers. Ebbing is a small town, but it's full of secrets and hidden connections that run deeper and darker than Elise could have ever imagined.


Before I begin my review I quickly have to mention that I was graciously provided with an eGalley of Local Gone Missing. Thank you Penguin Random House.
This is Fiona Barton's fourth book. Her previous three books were a trilogy, The Widow, The Child, and The Suspect which I have read and really enjoyed. If you're looking for an excellent psychological thriller, I recommend Fiona's books. You won't be disappointed. These are perfect beach/poolside reads.
Local Gone Missing is a standalone read. Although I could see this as another series.
What can I say for this book except for the fact that I think there were more twists and turns then any book I have recently read. I really enjoy books like this because you are led to think one thing and then question everything else.
When I go into these kinds of books I always tend to have a pen and paper beside me so that I can jot done characters, their relationship, and what I think are clues. This becomes very handy especially if a lot of characters are introduced. I also never reread the synopsis of the book because I find that gives away a lot so thankfully this was an eBook so I didn't have to worry.
Local Gone Missing is told from multiple points of view, Charlie, Dee, and Elise. The timeline goes back and forth between now and before. This works well for this storyline and it's not confusing at all since the chapters indicate when it's happening.
Apart from those three main characters, there are numerous side characters as well. Way too many to count. It seemed like all the characters were coming out of the woodwork. Also, there are a lot of subplots but as you read you will see that it all makes sense in the end.
Elise is a successful detective but was put on sick leave because she was diagnosed with breast cancer and had to have an operation and treatment. Even though she isn't currently working she can't help but get involved. Once a cop always a cop. She desperately wants to get back to work but struggles with that idea because of everything she has gone through she is still having a bit of fogginess and has memory problems which are due to the treatment she has received.
Her next-door neighbor Ronnie is Elise's partner in crime so to speak. She is there for Elise and is willing to help her on the side to figure out what is going on in their small little seaside community. Think Thelma and Louise. She would make a perfect detective with her whiteboard and string.
Then there is Dee. She is the local housekeeper of the community. Her husband, Liam is an out-of-work plumber and a former drug addict. They have a son, Cal. There is more to her than meets the eye. In the beginning, Dee was a part of the community and in a blink of an eye things become awkward and she is struggling to make ends meet. One thing about being a housekeeper is that you become invisible to the people you are working for, they forget your there and have conversations, fights etc. Dee knows so much about the people she works for. I have to say I wasn't a fan of Liam because he would always get upset if Dee had to work. I was always like Dude she has to work seven days a week to bring money into the house since you're not working!
Now there is Charlie, who the book is about. He goes missing (his wife, Pauline reports him missing) and everyone is shocked because he comes off as a sweet, charming enduring old man. But, there is more to Charlie than everyone knows. Everyone believes Charlie would not leave on his own and that foul play was involved. His last sighting was at a local music festival. What happened and where did Charlie go? As the police begin to do their work, Elise soon realizes that Charlie is not who he says he is. There is more to him than meets the eye. Did his past come back to haunt him? Or was it greed?
I have to tell you that I was on the edge of my seat reading this and even though I was marking things down and keeping track I still couldn't figure out who did it. I was back and forth between many characters and only at the end did it all make sense. These are the kinds of books I truly enjoy reading. This wasn't fast-paced but it was a page-turner. Fiona did a perfect job setting the scene and making the characters real with their pasts, and existing relationships.