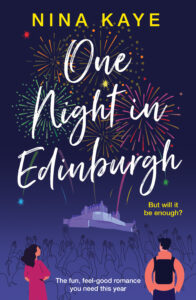 Title: One Night in Edinburgh
Author:   Nina Kaye
Publisher: Canelo
Publication Date: June 23rd, 2022
Pages: 324
Blurb
One night. But how many second chances?
Heartbroken on Hogmanay, Steph wanders through the Edinburgh street party until she bumps into Jamie. He's funny, attractive and clearly interested. In a word, he's perfect – but she didn't get his number. All she remembers is his lime and mango beer.
Determined to be reunited, Steph tracks him by a milk carton-style campaign, sticking a message to his favourite beer across local pubs. Although eventually reunited, Jamie is frequently uncontactable and evasive, and Steph worries she's on the path to heartbreak once more.
There's a fine line between being patient and being gullible, and Steph's reaching her limit. When a chance encounter with Jamie reveals his secret, she faces an even tougher decision. Should Steph give love another chance, or was one night in Edinburgh all she and Jamie were meant to have?
A funny and emotional romance for fans of Mhairi McFarlane, Beth O'Leary and Rosie Walsh.
Buy Links