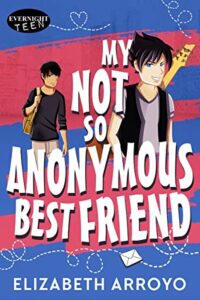 My Not So Anonymous Best Friend
by Elizabeth Arroyo
on April 29, 2022
Pages:
271
Noah aka NOS2321: Gamer. Weeb. Up-and-coming rock star. And gay. Encouraged by his anonymous pen pal, XES6969, Noah takes the leap and comes out of the closet—no instructions needed—accidentally sending his father to the hospital during his reveal. Despite his horrible dating track record which included two girls (because it was required that he at least try) and one boy (because he had to start somewhere), Noah believes in happily ever after. That belief gets tested when he falls for Evan Santiago.
Evan aka XES6969, believes in sacrificing yourself for those you love. Learning NOS's identity hadn't been his fault. Except he carries the lie which begins to fester, trapping him into silence. When a stray football brings them together, Evan no longer wants to keep silent. And when he learns that Noah is interested too, he takes a chance at love, risking everyone he's tried to protect, including himself.
Before I begin my review I quickly have to thank Evernight Teen and Netgalley for granting me early access to My Not So Anonymous Best Friend.
I know I mentioned this once before, but I have to admit when I am reading eBooks I never really pay that much attention to the percentage of how much I read and what the length of the book is.
So, imagine my surprise when I read this pretty much in a sitting. It was a rather quick and fun read for me. I should mention before I go any further that there are a few trigger warnings in the book. ( grief, violence, abuse) This book had me all over the place with my feelings. There were so many ah that is so sweet and adorable to heartbreaking.
This is a young adult contemporary debut. Elizabeth is the Latinx author of speculative fiction novels for teens. (Before Dawn, The Second Shadow, and The Second Sign.)
The book is about Noah and Evan. They first met in sixth grade through a pen pal exchange program at school. Do you remember doing that in school? I do and I had two penpals. One was Lucy from England and the other was Maria for Italy. The penpals are anonymous.
Over the years, Noah started to confide in Evan and I think that was because they never thought they would actually meet in person. That is until one day Evan moves. What will each other do and say to the other? Will secrets they shared privately be exposed?
Not only is Noah a gamer but he is an up-and-coming rockstar. Up until now, Noah has kept a secret and that is he is gay. Evan encourages him to come out but how will everyone react especially his father?
Evan is a high school football player who has secrets of his own. I felt so sad for Evan because he thinks he doesn't deserve to be loved and that he doesn't deserve better and to me, that is so sad. Everyone deserves a good life and to be loved. I guess this is where the mom in me comes out because I just wanted to reach into the book and tell him that he deserves to be loved and to have all that the world can give him. Evan is worthy of all that. But will he see that?
I really enjoyed this and you can't help but root for Noah and Evan throughout the book. There were a few things that didn't sit well with me and that was how dominating Evan could be and Noah just taking it and not standing up for himself. I wish there would have been a little more back history as to why Evan was like that. I guess when you have parents who leave you alone all the time it could be expected.
Also, I love how forgiving Noah can be. Without giving away anything I will say when someone does him wrong that was major he is like okay I forgive you let's go grab a coffee. For me, I don't think I could be that forgiving right away if someone did something major to me and I know for sure I wouldn't say hey let's go get a coffee.
Not sure if there is going to be a second book or if this is a standalone but I felt like there were a few loose ends that needed to be tied up. Not sure if it's just me or not.
I have to say that this book has been pretty much under the radar. I didn't hear about this until one morning when I was scrolling through NetGalley to see what new books were available to read now, after reading the synopsis I instantly downloaded it, and then I got an email from Xpresso Book Tours looking for hosts to do a book blitz of the book and I instantly signed up because this book definitely needs to be out there.