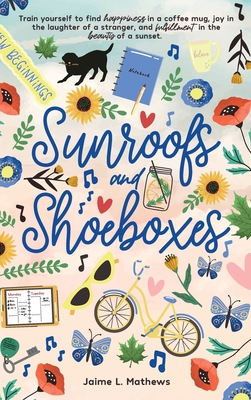 Sunroofs and Shoeboxes
by Jaime L Mathews
Published by
Jaime L. Mathews on November 2, 2021
Pages:
360
Goodreads
Train yourself to find happiness in a coffee mug, joy in the laughter of a stranger, and mental wellness with an open Costco parking lot.
Seeing the beauty in the mundane goes a long way towards leading a happy life. But the daily practice of gratitude is a muscle that needs to be flexed regularly. Jaime teaches you to look at life with a brand new set of eyes, every day. Eventually, you won't even need to think about it, and you will start to see opportunities in the biggest challenges, see the extraordinary in the most ordinary things, and your outlook on life will be changed for the better.
So flex those muscles now, and take a deep dive into the unbridled enthusiasm and contagious optimism of Jaime L. Mathews.
From the health benefits of opening the sunroof of your car and letting the sun in, to turning shoeboxes into treasure troves of memories to cherish, Jaime L. Mathews shows you the positive side in the things of every day life.
I quickly have to thank Lola's Blog Tours for allowing me to be a part of this blog tour and for graciously providing me with an ebook to read for my stop today.
After the year we have had I definitely needed to read Sunroofs and Shoeboxes and I think I need to buy a physical copy of this to have on my shelf to pick up and read when I need a little bit of something good. Plus it will be so much easier to annotate this and highlight the important parts or words of wisdom.
Given the current situation in the world, it's so easy to be down and negative. It's hard to see the good things in life no matter how small they can be. We need to appreciate the little things and that is what this book is about. As you read it you begin to see things differently.
Each chapter is very short so you can read as much as a little as you want. I pretty much read this in one sitting because I couldn't put the book down. This is definitely a book you can reread over and over again and walk away with a different outlook.
One of the things that Jaime talks about is practicing daily gratitude and this is something that I have done since my MS diagnosis. Yes, it's easy to be down when life has handed you lemons and it's hard to see the good but with practice and doing it daily you can see the beauty and good things in life. For me waking up each morning not having an MS symptom is a blessing. I try at the end of each day to think of three good things that happened that day, it could be seeing a beautiful sunrise or making that perfect cup of coffee, or making the perfect batch of cookies.
I can't even pick a favorite story that Jaime shared because they were all so beautiful and heartwarming. We have to remember that there is beauty and love in the world and one person can make the difference. We just need to stop and smell the roses.
This would make a perfect gift for someone in your life.