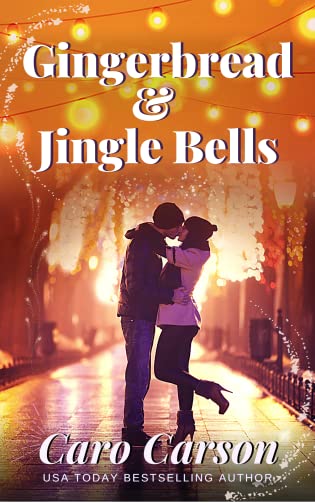 Gingerbread & Jingle Bells
by Caro Carson
Published by
Caro Carson on October 12, 2021
Pages:
74
Goodreads
Winner of the 2021 Colorado Romance Writers' Beverley award.
Finalist for the New Jersey Romance Writers Golden Leaf award and the Contemporary Romance Writers' Stiletto award.
You never get a second chance at a first kiss…
Eve Richards may have been raised in a small town, but she's made her dreams of a big-city career come true. For years, she's made all the sacrifices required of a rising corporate executive, only returning to Masterson, Texas, for quick visits by flying in on Saturdays, flying out on Sundays--until now. This December, her grandmother needs help at the family bakery, so Eve is finally taking her unused vacation to go home and count cookies instead of corporate cash.
Eve isn't the only person returning to town. Her childhood sidekick, the recipient of her very determined but fairly disastrous attempt at a kiss, has returned as well. Daniel Shepherd, the once-shy boy from England, is now the town's swoon-worthy new veterinarian. Grandma's obvious matchmaking attempts are as mortifying as the memory of the awkward kiss that ended their friendship at age thirteen, but the more time Eve spends with Daniel, the harder it is to resist the temptation to take a second chance at that first kiss.
But Daniel has come back to Masterson to put down roots; Eve will be gone after the holiday rush at the bakery. Nothing good could come from letting herself fall for the man who was once her best friend. Besides, Daniel truly respects her for making her own dreams come true. She's can't abandon her career, not when she'll be going back on Christmas Day to a big promotion.
A kiss before Christmas could change everything…if she's brave enough to take a second chance on a first love.
A heartwarming wintery romance from a USA Today Bestselling Author and RITA Award winner, set in a wonderfully unique 1980s setting. Perfect for fans of sweet and sincere happily-ever-afters.
"Caro Carson writes books that touch the heart; they're witty, wise, emotional and filled with intricately layered, fascinating characters."
--NEW YORK TIMES bestselling author RaeAnne Thayne
Note: This novella was briefly published December 2020 in the anthology CHRISTMAS ACTUALLY.
After doing my book blitz yesterday for Gingerbread & Jingle Bells for Xpresso Book Tours I instantly had to go and purchase this book to read because it sounded so good.
Gingerbread & Jingle Bells was a super quick, fun, and cute read about a second chance at love. I am a sucker for a second chance at love tropes. Trust me I have been involved in that trope when I was in high school and then years later, Sadly it never worked out for me and that was due to distance and then him moving to the US to be with his dad. But I can say we are officially still friends to this very day.
Our main characters are Evie and Daniel. They met in 5th grade and basically became friends on a day that school was cancelled in Masterson, Texas because of a significant amount of snowfall. The principles of the local schools all agreed that it was safer to keep the kids home since they aren't prepared for that kind of weather. Sadly Evie and Daniel never got that message and both were at school waiting for someone to come when they realized school was cancelled.
What each other didn't realize was that they both liked each other more than they said. The last time Evie saw Daniel was when they were 13 years old. Daniel returned to Britain and never returned. Evie went to college and then moved to Pittsburgh to work. Many years later Evie returns to Masterson to help her grandmother with the family bakery of the Christmas holidays.
Little does Evie know but Daniel has moved back to town and is the new vet of the city and it seems like her grandmother is trying to play matchmaker for the two of them. Will Evie finally admit that even though they are adults she still likes Daniel? Will this be the second chance that they both need?
I am definitely excited to read more of Caro Carson's other books if this is any indication of what her writing is like. I really enjoyed this and I can see myself rereading this again.
Thanks Xpresso Book Tours for bringing this book to my attention.