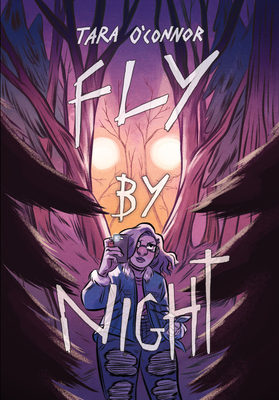 Fly by Night
by Tara O'Connor, Triona Farrell
Published by
Random House Graphic on October 12, 2021
Pages:
320
Goodreads

In this environmental thriller graphic novel with a supernatural twist, Dee must find out what happened to her missing twin.
An amazing mystery filled with strange creatures, high school drama, and family, this darkly illustrated book shows us that monsters are all around us.

There are monsters in the woods.
Something supernatural is lurking in the woods. While out searching for her missing sister and desperately trying to find any possible clues to her whereabouts, Dee discovers something . . . isn't quite right . . . in the woods. Dee soon finds herself in the middle of a battle to save the pinelands, and she is finding more suspects, and more questions, than answers.
As time goes on, there is only one thing she knows for certain, there are monsters among us. But they aren't who you should be afraid of . . .
I quickly have to thank Random House Graphic for providing me an eGalley of Fly by Night to read and review.
I definitely want to check this out when it comes out to see what the color version is like because the eGalley was in black and white. The illustrations were great and I think seeing it in color will make it just that more special. I know there are a few that I want to see what it would be like in color.
At the time I got this to read (late summer) I was definitely in a graphic novel frame of mind and was devouring all kinds of graphic novels/comics etc and this definitely made my top ten list of favorite graphic novels to date.
Fly by NIght had a little bit of everything mystery, conspiracy, a touch of the paranormal, family (a twin sister goes missing), and environmental issues.
Our main character is Dee and she lives with her father and his new wife. Dee's mom and sister Beth live in another city. When Beth goes missing Dee goes back to help with the search. She knows Beth would never just disappear and is determined to find her even when she is told not to. But Dee is determined to help find her sister even if it means risking her own life.
I won't say much more than that because I will easily give it away so I suggest you pick this up to read. It was really interesting and I enjoyed reading it. It has a little bit of everything for everyone. It covers an interesting topic and that is the building of the pipelines and how a corporation will do anything to make it happen with no regard to what it will do.