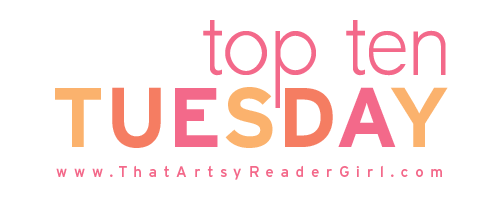 Top Ten Tuesday was created by The Broke and the Bookish in June of 2010 and was moved to That Artsy Reader Girl in January of 2018. It was born of a love of lists, a love of books, and a desire to bring bookish friends together.
I use to love doing the Top Ten Tuesdays on my blog and when I stumbled across this again I thought I would get back into doing them. they are always so much fun.
This week's topic is Freebie! Meaning you come up with your own Top Ten Tuesday topic. I am going to list my Top Ten Authors I Own The Most Books From:
Catherine McKenzie
V.C. Andrews
L.M Montgomery
Chris Colfer
Morgan Matson
Terry Spear
A.G. Howard
Katie Cotugno
Maureen Goo
Julie Murphy
As you might know, I normally don't keep my books once I am done reading them because I have to admit I don't have space for them and I honestly don't tend to reread my books. But, I will admit that there are some books that I keep due to the fact that they are signed by my favorite author, have beautiful covers, or I absolutely love the story.
Do you keep all your books or do you pass them on?