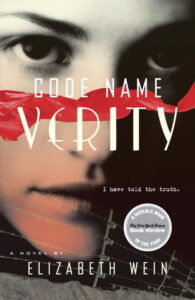 Code Name Verity
on May 7th 2013
Pages:
332
Goodreads
Code Name Verity is a compelling, emotionally rich story with universal themes of friendship and loyalty, heroism and bravery.
Two young women from totally different backgrounds are thrown together during World War II: one a working-class girl from Manchester, the other a Scottish aristocrat, one a pilot, the other a wireless operator. Yet whenever their paths cross, they complement each other perfectly and before long become devoted friends. But then a vital mission goes wrong, and one of the friends has to bail out of a faulty plane over France. She is captured by the Gestapo and becomes a prisoner of war. The story begins in "Verity's" own words, as she writes her account for her captors.
In the month of June I took part in a group buddy read for Code Name Verity by Elizabeth Wein with a bunch of fellow bookish Canadians.
It was during a Penguin 10 Reveal where Penguin was discussing Elizabeth Wein's upcoming release, The Enigma Game that a bunch of us chimed in saying we should buddy read Code Name Verity and we did.
I wanted to love the book but I just couldn't. At times I wanted to give up but thankfully the group kept me going. I think had it not been for them I would have stopped.
I see the praise for this book and I feel like I might be in the minority with my thoughts on this. Did I miss something? Perhaps reading a set number of chapters weekly set me back? Should I attempt to read it perhaps in one sitting? Do I do the audio book version instead?
I should start off by saying that historical fiction is a new to me genre. I have never had an interest in reading this genre before so I was happy with the buddy read so that I could give it a try.
I will say that this will be one of the hardest reviews I have had to write. Hopefully I don't include spoilers.
The book is told almost in like a diary style and I tend to love this format. Its told in first and third person and I think that is where I got a little lost because I wasn't sure if it was Verity (who had numerous names such as Queenie)) and Kittyzhawk (Maddie). I ended up having to make notes just to get through the first part. I think it was almost half way through it when it started to make some sense.
This is the story of two young women in the 1943 in Nazi occupied France. One of the young women just happens to be a secret agent who is captured as she was parachuting into France. She is given two weeks to give them radio codes, locations etc but she gives them her story mixed in with that and as she is doing this she is being tortured. As you are reading this your heart breaks because this happened to so many people (men and women). I did like this character because even though she was living in hell she was feisty and very snarky. I guess she figured what more could they do to her then they already were. Will they kill her or send her to a concentration camp?
The second part is about the pilot and what happened after her friend parachuted into France. We discover that she had to crash the plane in France and about the people who helped her. This was when the story started to get a little more interesting because it seemed to fill in gaps  of the previous part and it begins to make a little more sense.
I do admit to googling to see what the planes looked like that were mentioned.
Sadly this was not the book for me but I think if you like historical fiction you might enjoy this if you haven't already read it.