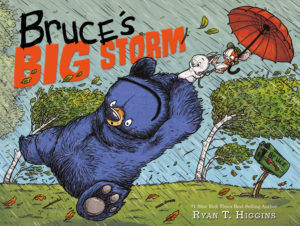 About the Book
Title: BRUCE'S BIG STORM
Author: Ryan T. Higgins
Pub. Date: September 3, 2019
Publisher: Disney-Hyperion
Formats: Hardcover, eBook
Pages: 48
Find it: Goodreads, Amazon, Kindle, B&N, iBooks, Kobo, TBD
Bruce's home is already a full house.
But when a big storm brings all his woodland neighbors knocking, he'll have to open his door to a crowd of animals in need of shelter-whether he likes it or not.
Readers will love this next installment of the uproarious, award-winning Mother Bruce series.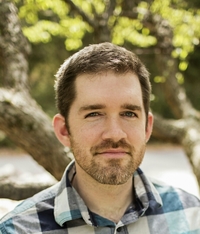 About Ryan:
Ryan T. Higgins is a New York Times Bestselling author/illustrator residing in Southern Maine. He lives with his two dogs, two cats, one gecko, one tortoise, one son, one daughter, and one wife. As a child, he lived on a diet of cartoons, cheese sandwiches, and climbing trees. At the age of four he decided to become a cartoonist and he's been making his own cartoons ever since.
Website | Twitter | Facebook | Instagram | Goodreads
Giveaway Details:
3 winners will receive a finished copy of BRUCE'S BIG STORM, US Only.
Rafflecopter Code:
a Rafflecopter giveaway
Tour Schedule:
Week One:
10/1/2019- Shortcake_bibliophage– Excerpt
10/2/2019- Cindy's Love of Books– Excerpt
10/3/2019- fictitious.fox– Review
10/4/2019- BookHounds YA– Review
Week Two:
10/7/2019- PopTheButterfly Reads– Review
10/8/2019- Do You Dog-ear?– Review
10/9/2019- Savings in Seconds– Review
10/10/2019- The Try Everything– Excerpt
10/11/2019- Starlight Reads– Review
Week Three:
10/14/2019- Treestand Book Reviews– Review
10/15/2019- Beagles and Books– Review
10/16/2019- Little Red Reads– Review
10/17/2019- Wonder Struck– Review
10/18/2019- Life Within The Pages– Review
Week Four:
10/21/2019- Fyrekatz Blog– Review
10/22/2019- Southern Girl Bookaholic– Review
10/23/2019- Two points of interest– Review
10/24/2019- Novel Novice– Review
10/25/2019- Here's to Happy Endings– Review
Week Five:
10/28/2019- YA Book Nerd– Review
10/29/2019- Satisfaction for Insatiable Readers– Review
10/30/2019- Nerdophiles– Review
10/31/2019- Wishful Endings– Review