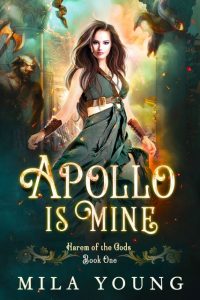 Apollo is Mine (Harem of the Gods #1)
by Mila Young
on September 18, 2018
Goodreads
I'm a warrior. Cursed to fight monsters. Sworn to act as Zeus' sword to protect mankind.
But I'd give it all up for one last kiss with the god who stole my heart...Apollo.I never wanted to carry my family's legacy. But blood ties cannot be broken, and I'll keep the promise I made my father on his dying bed. Legendary monsters hunt in city streets of Chicago, and my job was to take down the worst.I've trained with Heracles.Been blessed with super human powers.What I've never done is fallen in love--until Apollo crossed my path. But he isn't the only god to catch my attention. Hades is here too, and with him comes a darkness that leaves behind a trail of human bodies. Heracles and my gut instinct urges me to destroy this creature, but each step brings me closer to the truth...Darkness cannot win...or the Earth will tumble into chaos and I'll lose the god I've come to love...Apollo is mine.
Apollo is Mine is book 1 in the Harem of the Gods reverse harem series.
Content Warning: Steamy love scenes, dominating alphas who protect their female, and plenty of sexy Greek gods who will leave you breathless.
HAREM OF THE GODS series#1 Apollos is Mine#2 Poseidon is Mine#3 Coming soon#4 Coming soon
Before beginning my review I have to quickly thank Rockstar Book Tour for allowing me to be a part of this blog tour and for sending me a copy of the book to read for my review today.
Apollo is Mine  is the first book in the Reverse Harem series. The second book Poseidon is Mine is scheduled to be released November 13th, 2018. I am curious to see where this will go.
Mila Young is a new to me author and I was excited to try something new and different and this was truly different for me to read and it was nice to step outside my comfort zone on this one. I was instantly hooked when I started to read and managed to read this within a few sittings. I am sure I would have finished it sooner had it not been on my iPad.
The main character Elyse is the very last Lowe family member selected by Zeus to fight the monsters. Zeus has given Elyse the power to see the mythical Gods, Apollo & Hades to name a few and the mystical creatures like centaurs that humans can't see and don't realize that are still around. She also has a few other spell abilities such as three extra lives, strength, speed and endurance. She is training to perfect her skills because she is so unsure of herself considering that she is the last in the Lowe line who embraces their skill. Everyone in her family wanted to fight the fight to protect the humans.
Elyse realizes she needs to step up her game and give it her all if she wants to protect the humans because she feels as though she is not prepared for the fight of her life and wants to be there to tell the tale in the end. She knows she needs to be faster, stronger and fierce in this battle. Hercules is training her and he knows what is expected of her with some encouragement he knows she will get there.
Like in any book it can't be all work and no play and that is where Apollo and Hades come into play. Things instantly become hot and steamy between them. Both Hades and Apollo are so different but yet so similar in many ways. I have to say that I loved both Hades (the bad boy) and Apollo. I am looking forward to seeing where this will go in the future.
Will Elyse be able to fight the good fight and carry on the Lowe name or will it all end like everyone before her?
I am definitely curious to check out Mila's other books. Have you read anything from Mila? If so, what would you recommend?