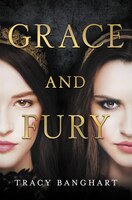 Title: GRACE AND FURY
Author: Tracy Banghart
Pub. Date: July 31, 2018
Publisher: Little, Brown Books for Young Readers 
Formats: Hardcover, eBook
Pages: 320
Find it: Goodreads, Amazon, B&N, iBooks, TBD
In a world where women have no rights, sisters Serina and Nomi Tessaro face two very different fates: one in the palace, the other in prison.
Serina has been groomed her whole life to become a Grace–someone to stand by the heir to the throne as a shining, subjugated example of the perfect woman. But when her headstrong and rebellious younger sister, Nomi, catches the heir's eye, it's Serina who takes the fall for the dangerous secret that Nomi has been hiding.
Now trapped in a life she never wanted, Nomi has only one way to save Serina: surrender to her role as a Grace until she can use her position to release her sister. This is easier said than done. A traitor walks the halls of the palace, and deception lurks in every corner. But Serina is running out of time, imprisoned on an island where she must fight to the death to survive and one wrong move could cost her everything.
About Tracy:
Tracy Banghart grew up in rural Maryland and spent her summers on a remote island in northern Ontario. All of that isolation and lovely scenery gave her the time to read voraciously and the inspiration to write her own stories. Always a bit of a nomad, Tracy now travels the world Army-wife style with her husband, son, cat, and sweet pupper Scrabble. She wrote Grace and Fury while living in Hawaii.
Website | Twitter | Facebook | Instagram | Goodreads
Giveaway Details:
3 winners will receive a finished copy of GRACE AND FURY, US Only.
Rafflecopter Embed Code:
Tour Schedule:
Week One:
7/23/2018- Tea Party Princess– Review
7/24/2018- Paperback Princess– Review
7/25/2018- Confessions of a YA Reader– Review
7/26/2018- Book Dragon Lair– Review
7/27/2018- laura's bookish corner– Review
Week Two:
7/30/2018- The Desert Bibliophile– Review
7/31/2018- Do You Dog-ear?– Review
8/1/2018- Synopses By Sarge– Review
8/2/2018- CoffeeCocktailsandBooks Blog– Review
8/3/2018- Kat's Books– Review
Week Three:
8/6/2018- Feed Your Fiction Addiction– Review
8/7/2018- Portrait of a Book– Review
8/8/2018- To Be Read– Review
8/9/2018- Brooke- Reports– Review
8/10/2018- Cindy's Love of Books– Review
Week Four:
8/13/2018- A Court of Coffee and Books– Review
8/14/2018- Smada's Book Smack– Review
8/15/2018- The Young Folks- Review
8/16/2018- Book-Keeping– Review
8/17/2018- A Gingerly Review– Review