With BookExpo happening later this month, I am starting to get a little envious of those that are able to attend this year but its all good because they will be showing or at least I hope they will show what new and exciting books that will be coming out.
With that being said I thought I would share with you my top 10 weekly book picks every Sunday until the week of Book Expo. These are books that I have seen talked about and have been added to my wishlist of books.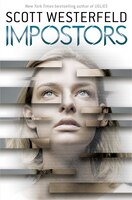 #1
Frey and Rafi are inseparable . . . two edges of the same knife. But Frey's very existence is a secret.
Frey is Rafi's twin sister—and her body double. Their powerful father has many enemies, and the world has grown dangerous as the old order falls apart. So while Rafi was raised to be the perfect daughter, Frey has been taught to kill. Her only purpose is to protect her sister, to sacrifice herself for Rafi if she must.
When her father sends Frey in Rafi's place as collateral in a precarious deal, she becomes the perfect impostor—as poised and charming as her sister. But Col, the son of a rival leader, is getting close enough to spot the killer inside her. As the deal starts to crumble, Frey must decide if she can trust him with the truth . . . and if she can risk becoming her own person.
With Impostors, master storyteller Scott Westerfeld returns with a new series set in the world of his mega-bestselling Uglies—a world full of twist and turns, rebellion and intrigue, where any wrong step could be Frey's last.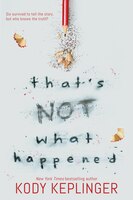 #2
From New York Times bestseller Kody Keplinger comes an astonishing and thought-provoking exploration of the aftermath of tragedy, the power of narrative, and how we remember what we've lost.
It's been three years since the Virgil County High School Massacre. Three years since my best friend, Sarah, was killed in a bathroom stall during the mass shooting. Everyone knows Sarah's story–that she died proclaiming her faith.
But it's not true.
I know because I was with her when she died. I didn't say anything then, and people got hurt because of it. Now Sarah's parents are publishing a book about her, so this might be my last chance to set the record straight . . . but I'm not the only survivor with a story to tell about what did–and didn't–happen that day.
Except Sarah's martyrdom is important to a lot of people, people who don't take kindly to what I'm trying to do. And the more I learn, the less certain I am about what's right. I don't know what will be worse: the guilt of staying silent or the consequences of speaking up . . .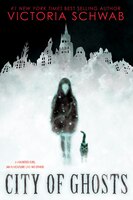 #3
Schwab is a bestselling star in the adult and YA worlds with a recent million-dollar deal with Tor. We're lucky to be her MG home with this deliciously spooky novel perfect for fans of Miss Peregrine.
Ever since Cass almost drowned (okay, she did drown, but she doesn't like to think about it), she can pull back the Veil that separates the living from the dead . . . and enter the world of spirits. Her best friend is even a ghost.
So things are already pretty strange. But they're about to get much stranger.
When Cass's parents start hosting a TV show about the world's most haunted places, the family heads off to Edinburgh, Scotland. Here, graveyards, castles, and secret passageways teem with restless phantoms. And when Cass meets a girl who shares her "gift," she realizes how much she still has to learn about the Veil — and herself.
And she'll have to learn fast. The city of ghosts is more dangerous than she ever imagined.
NYT bestselling author Victoria Schwab delivers a thrillingly spooky and action-packed tale of hauntings, history, mystery, and the bond between friends (even if that friend is a ghost . . .).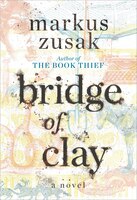 #4 An unforgettable and sweeping family saga from Markus Zusak, the storyteller who gave us the extraordinary bestseller THE BOOK THIEF, lauded by the New York Times as "the kind of book that can be lifechanging."
 
The breathtaking story of five brothers who bring each other up in a world run by their own rules. As the Dunbar boys love and fight and learn to reckon with the adult world, they discover the moving secret behind their father's disappearance.
At the center of the Dunbar family is Clay, a boy who will build a bridge—for his family, for his past, for greatness, for his sins, for a miracle.
The question is, how far is Clay willing to go? And how much can he overcome?
Written in powerfully inventive language and bursting with heart, BRIDGE OF CLAY is signature Zusak.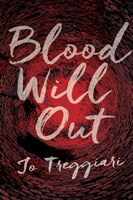 #5 Silence of the Lambs for young adults — Blood Will Out is a gripping YA thriller readers won't be able to put down.
Ari Sullivan is alive–for now.
She wakes at the bottom of a cistern, confused, injured and alone, with only the shadowy recollection of a low-pitched voice and a gloved hand. No one can hear her screams. And the person who put her there is coming back. The killer is planning a gruesome masterpiece, a fairytale tableau of innocence and blood, meticulously designed.
Until now, Ari was happy to spend her days pining for handsome, recent-arrival Stroud Bellows, fantasizing about their two-point-four-kids-future together. Safe in her small hometown of Dempsey Hollow. But now her community has turned very dangerous — and Ari may not be the only intended victim.
Told in alternating perspectives of predator and prey, Blood Will Out is a gripping and terrifying read.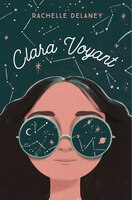 #6 A wannabe journalist and reluctant astrologer turns out to be clairvoyant in this charming middle-grade coming-of-age novel; for fans of Rebecca Stead's novels.
Clara can't believe her no-nonsense grandmother has just up and moved to Florida, leaving Clara and her mother on their own for the first time. This means her mother can finally "follow her bliss," which involves moving to a tiny apartment in Kensington Market, working at a herbal remedy shop and trying to develop her so-called mystical powers. Clara tries to make the best of a bad situation by joining the newspaper staff at her new middle school, where she can sharpen her investigative journalistic skills and tell the kind of hard-news stories her grandmother appreciated. But the editor relegates her to boring news stories and worse . . . the horoscopes.
Worse yet, her horoscopes come true, and soon everyone at school is talking about Clara Voyant, the talented fortune-teller. Clara is horrified — horoscopes and clairvoyance aren't real, she insists, just like her grandmother always told her. But when a mystery unfolds at school, she finds herself in a strange situation: having an opportunity to prove herself as an investigative journalist . . . with the help of her own mystical powers.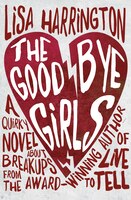 #7 The students at Lizzie's high school are notoriously terrible at breakups. Forget awkward conversations—they're dumping each other via text. Inspired by the terrible breakups around her, sixteen-year-old Lizzie, strapped for cash and itching to go on the school's band trip to NYC, teams up with her best friend, Willa, to create a genius business: personalized gift baskets—breakup baskets—sent from dumper to dumpee. The Goodbye Girls operate in secret, and business is booming. But it's not long before someone begins sabotaging The Goodbye Girls, sending impossibly cruel baskets to seemingly random targets, undermining everything Lizzie and Willa have built and jeopardizing their anonymity. Soon family, friendship, and a budding romance are on the line. Will Lizzie end up saying goodbye to the business for good?
#8 Wild Card by Marie Lu
Return to the immersive, action-packed world of Warcross in this thrilling sequel from #1 New York Timesbestselling author Marie Lu
Emika Chen barely made it out of the Warcross Championships alive. Now that she knows the truth behind Hideo's new NeuroLink algorithm, she can no longer trust the one person she's always looked up to, who she once thought was on her side.
Determined to put a stop to Hideo's grim plans, Emika and the Phoenix Riders band together, only to find a new threat lurking on the neon-lit streets of Tokyo. Someone's put a bounty on Emika's head, and her sole chance for survival lies with Zero and the Blackcoats, his ruthless crew. But Emika soon learns that Zero isn't all that he seems–and his protection comes at a price.
Caught in a web of betrayal, with the future of free will at risk, just how far will Emika go to take down the man she loves?
In this explosive sequel to the New York Times bestselling Warcross, Marie Lu delivers an addictive finale that will hold you captive till the very last page.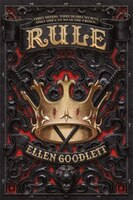 #9 Three Dark Crowns meets Pretty Little Liars in this sensational and striking new fantasy from debut author Ellen Goodlett.
Three girls with three deadly secrets. Only one can wear the crown.
Zofihas spent her entire life traveling across the Reaches. Just when her freedom matters most, the king's men arrive and drag her away from her fellow Travelers to bring her to the capital–Kolonya.
Ren grew up in Kolonya, serving as a ladies' maid at court. She dreams of being a noble herself one day, but being ominously summoned to the king's courtroom after a misdeed isn't exactly what she had in mind.
Akeylah was raised by an abusive father in the Eastern Reach, surrounded by brewing insurrection. She'd do anything to escape her family, even accept the invitation of a king who has every reason to despise her.
Each girl hides a dangerous secret–the kind that could get her killed for treason. But when the girls are brought before King Andros expecting an execution, instead they learn the truth: The king is dying and they are his only living heirs. Now the three of them must live at court and compete for the chance to rule. But someone in Kolonya knows the girls' secrets, and they'll stop at nothing to keep them from the throne.
#10 A Curse So Dark and Loneyly by Brigid Kemmerer 
In a lush, contemporary fantasy retelling of Beauty and the Beast, Brigid Kemmerer gives readers another compulsively readable romance perfect for fans of Marissa Meyer.
Fall in love, break the curse.
It once seemed so easy to Prince Rhen, the heir to Emberfall. Cursed by a powerful enchantress to repeat the autumn of his eighteenth year over and over, he knew he could be saved if a girl fell for him. But that was before he learned that at the end of each autumn, he would turn into a vicious beast hell-bent on destruction. That was before he destroyed his castle, his family, and every last shred of hope.
Nothing has ever been easy for Harper Lacy. With her father long gone, her mother dying, and her brother barely holding their family together while constantly underestimating her because of her cerebral palsy, she learned to be tough enough to survive. But when she tries to save someone else on the streets of Washington, DC, she's instead somehow sucked into Rhen's cursed world.
Break the curse, save the kingdom.
A prince? A monster? A curse? Harper doesn't know where she is or what to believe. But as she spends time with Rhen in this enchanted land, she begins to understand what's at stake. And as Rhen realizes Harper is not just another girl to charm, his hope comes flooding back. But powerful forces are standing against Emberfall . . . and it will take more than a broken curse to save Harper, Rhen, and his people from utter ruin.
**Do any of these titles interest you? If so which ones?**