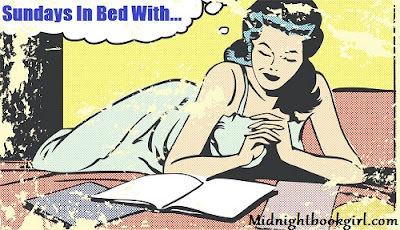 Welcome to our Sundays In Bed With… Meme! The meme that dares to ask what book has been in your bed this morning? Come share what book you've spent time curled up reading in bed, or which book you wish you had time to read today!
This is being hosted by two of the sweetest people I have to privilege of knowing in real life Kate and Kim. Sadly we don't talk like we use to because you know real life happens but there is not a day that goes by that I don't think of them both.
I am late in posting this but its been a busy morning. We did a special father's day breakfast and then I had to rush out to get groceries this morning and now I am set for the week. Although with Michael being home all week not sure how long the food will last.
Its also been a crazy week here with Michael finally finishing school, he had his last two exams this past week and he is officially on summer vacation..yay Specking of Michael he has wrapped up his 3 on 3 spring hockey. His team has been undefeated for the past 12 weeks with the exception of one exhibition game lose but that was in the beginning with a team that was way out of their league. So our last game was Friday and they won 12-3 and they were the first place winners in their division.
Anyways the reason why you are here is to see what book I am reading today and the next one I will be starting:
I finished up The Heartbreakers by Ali Novak earlier today so I will be starting book 2 next
What are you reading today? Hopefully its not too hot where you are. We are currently sitting at 87 F.. its hot and humid out there with a chance of thunderstorms and certain areas have a tornado warning in effect.