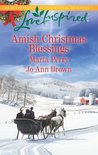 Amish Christmas Blessings: The Midwife's Christmas Surprise\A Christmas to Remember
by Marta Perry, Jo Ann Brown
Published by
Love Inspired on October 18th 2016
Pages:
224
Goodreads
Holiday Greetings From Amish Country

The Midwife's Christmas Surprise
by Marta Perry
Three years ago, the man Anna Zook hoped to marry left her and their Amish community for the English world. Now devoted to proving her abilities as a midwife, Anna has given up on marriage and children for herself. But when Benjamin Miller returns, now a changed man, can delivering a Christmas baby reunite these two hurting hearts?

A Christmas to Remember
by Jo Ann Brown
When a little girl leads shop owner Amos Stoltzfus to an Amish woman in distress, he rushes them to his family's farm. "Linda" has no memory and doesn't know if the sweet child is her daughter or even her kin. As Christmas arrives and Linda's identity is revealed, will Amos be able to claim his holiday guests as his own?
I love that we are now into December because that lets me dip into a whole new genre of reading for the next few weeks. I love reading Christmas books. Do you? What are some of your favorites?
This is two books in one. The first one is The Midwife's Christmas Surprise by Marta Perry. In this book we meet a young woman by the name of Anna. She is learning to become a midwife and currently lives with her mentor, Elizabeth and her family. Due to her young age she is finding it hard to have the community trust her but she is working hard to prove them wrong, she just needs a boost of confidence to make it work.
No story would be complete without a little something to stir it up and this is the case when Elizabeth's son, Benjamin returns home after being away for three years living in the English world. I think he realized that the grass isn't always greener on the other side. His family welcomes him home with open arms but will his once love, Anna do the same?
I loved reading this and wonder if  Benjamin could slowly win Anna's heart back and he was patient and it was nice to watch this blossom.
The second story is A Christmas to Remember by Jo Ann Brown. This is actually part of the Amish Hearts series but I have to say that this can be read as a stand alone and you won't be missing anything. I love how authors can do this with their books.
The story begins with a little girl stealing food from Amos's grocery store. He notices this and quickly follows the girl to see where she is going and he quickly discovers she is with Linda. Linda is an Amish lady but has no memory of who she is, where she is or what has happened to her. So Amos takes it upon himself to bring these girls back to his family's farm so that perhaps Linda can recover.
He sends out word with the Bishop to find out who these two are so that they can be reunited with their family because he knows someone out there is missing them this Christmas. Will the answers come before Christmas?
I really loved this because you could see that Amos and Linda were beginning to get close but neither wanted it to go any further until Linda regained her memory and I loved that about Amos. He was thinking of her before himself.
I really love reading these kinds of books and I hope I can dip into some more Amish books this holiday season.