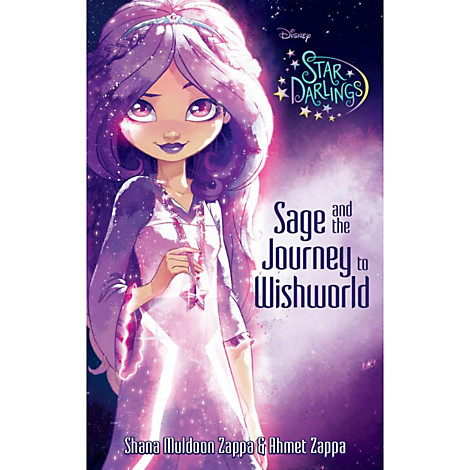 Star Darlings Sage and the Journey to Wishworld
Series:
Star Darlings #1
by Shana Muldoon ZappaAhmet Zappa
Format:
Paperback
Published by
Disney Press on September 15th 2015
Pages:
176
Goodreads
Genres:
Action & Adventure, Chapter Books, Fairy Tales & Folklore, General, Readers, Young Adult
Welcome to Starling Academy. Twelve very special students have been selected from this year's class to reclaim the wish energy that powers their beloved planet, Starland. The Star Darlings, as they are known, take classes where they learn how to grant the wishes made on birthday candles, shooting stars, dandelions, wishbones, and coins tossed into fountains, just to name a few. Their top-secret mission will take them to Wishworld (known in some places as Earth). There they will have to find the Wisher and figure out how to grant the wish before time runs out and they are stuck on Wishworld forever. Sage is the first Star Darling soaring off to Wishworld. Travel with her as she discovers how challenging life on a new planet can be and how she learns the importance of friendship, teamwork, and never assuming anything.
The Star Darlings is a new series from Disney Press that is perfect for middle grade girls. The series is broken down into 12 books featuring each of the elite Star Darlings girls.
I love how each book is broken down so that girls can understand each girl much better. The begin begins with a brief description of the girl, what their wish pendant is, and what their power crystal is. The next feature I really like about the book was that you can see who all 12 girls are and it lists various things about each girl such as name, birthday, favorite color, interests, wish, etc and funny enough I noticed that each girl sort of represents a zodiac sign because each girl was born in that month.
Plus at the end of each book their is a Glossary which is perfect understanding terms and words much better.
The girls are all referred to as Starlings and they live on Starland. I should say that Starland is years and years ahead of Wishland. Starland is powered solely on wish energy and in order to get that energy they harvest it by granting wishes to the people of Wishland. Just like here on Earth Starlings don't live forever so in order to keep the Starling population plentiful young girls must attend Starling Academy which is an elite academy and I don't thing everyone gets in.
So Sage and the Journey to Wishworld is the first book in the series. I would highly recommend reading them in order just so you can follow the story line much easier. In the first book, Starling Academy is trying out a pilot project that is top secret and only 12 girls are selected to be in it. They want to see if granting the wishes of adolescent girls will harvest more wish energy.
Sage is the first Starlings to go to Wishworld. She must use the knowledge she has learned so far from the Academy. She realizes that its not so easy to find her wisher and when she does she is on a time limit. She must find out what the wish truly is and I thought it was perfect for the first book. Towards the end their is a little hiccup but she quickly realizes what it is and she runs to save herself before its too late.
I won't say to much more about the book except that it was a fun read and I think girls would love this series.
To go along with the books,  Disney has created apparel and a doll line that goes with the Starlings band. There is even a music video for their first song which I am including here:
There is also a YouTube Channel (click here to go there) and a fun website filled with all kinds of things such as activities, an app to download and so much more, to go there click on this.
Check back all this week for more book reviews on this series.