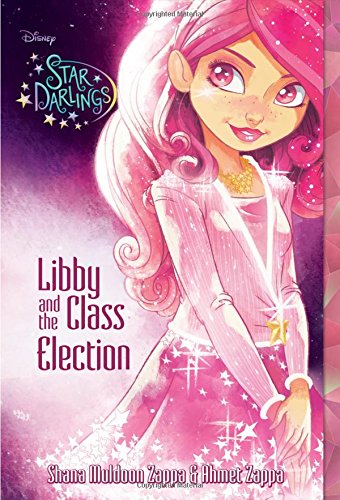 Star Darlings Libby and the Class Election
Series:
Star Darlings #2
by Shana Muldoon ZappaAhmet Zappa
Format:
Paperback
Published by
Disney Press on September 15th 2015
Pages:
176
Goodreads
Genres:
Action & Adventure, Chapter Books, Fairy Tales & Folklore, General, Readers, Young Adult
Charming Libby is a people pleaser who is slow at making decisions. She has to learn how to say no, stand up for herself, and feel more confident about her choices.All of the Star Darling roommates have received beautiful bouquets of sparkly flowers welcoming them to Star Academy. The band tryouts begin and many different girls show up to audition. Meanwhile, the Star Darlings are dealing with their personal conflicts and issues.Libby's mission: Libby finds a flower in the Wish Caves, but her only clue as to whom it belongs is a ballot with two names on it. When Libby goes down to Wishworld, she identifies the wisher and exhausts herself, thinking she has to help grant all the wishes. Libby's friends come down to help her get back on track.
One of the best things about discovering this series is that I am able to read a bunch of them back to back without having to wait too long for the next set of books to come out in the series.
This is the second book in the Star Darlings series and it focuses on Libby. I don't want to talk to much about the book because its the next book in the series. You can read them in probably in any order but for myself I like to read them in order just in case a character is mentioned in the next book you will have an idea who it is and not feel like your missing out on something.
Libby and the Class Election focuses on Avia and Libby helping her with her wish of being a class president. But is that really Avia's wish? What happens when this possibly isn't Avia's wish? Will Libby be able to fix it before its too late?
One of the thinks I really liked was the little mystery aspect of the book. All the girls in the Star Darlings receive a mystery bouquet of flowers. This is mentioned quite a bit in the book and it actually caused me to want to read the book faster to find out who it is and thats the cliff  hanger when the book ends.
The only thing that I was a little confused over was that Libby never got her moment to shine at the end of the book. This is where Lady Stella hands the girls who come back from their missions successfully with their Wish Orbs. Instead the book ends with a bit of drama that I think could have waited until Libby had her special moment. This drama will continue so you will have to read it to find out.
I am excited to share with you my review for book three tomorrow. I am really liking the series so far and I can't wait to see where it goes.