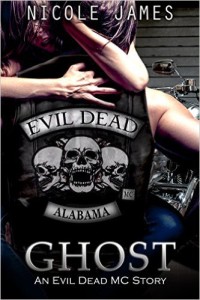 Ghost
Series:
An Evil Dead MC Story #5
Format:
eBook
on October 24, 2015
Pages:
290
Buy on Amazon
This book may be unsuitable for people under 17 years of age due to its use of sexual content, drug and alcohol use, and/or violence.
Ghost has been living his life under one rule…never fall in love, never get too close, never get tied down to just one woman. Focusing solely on his club, he is able to remain unattached and free…. until a girl from his past is dropped in his lap. She was a line he swore he'd never cross. And now, in order to obtain an alliance his club needs, he's forced to use her in ways he'd never imagined.
She needs his protection, and she's the one woman he can't refuse.
When Ghost finds himself unable to keep his distance from her, will he be able to push his feelings aside and use her as a pawn for the attainment of his club's goals? Or will he put the club and their lives at risk to follow his heart?
When lies and secrets come between them, can they overcome everything to find their own piece of heaven?
This is part of The Evil Dead MC Series, but each book can be read as a standalone.
Check out other books in The Evil Dead MC Series…
Outlaw – Book 1
Crash – Book 2
Shades – Book 3
Wolf – Book 4
Ghost – Book 5
I received this book for free from publisher/pr firm in exchange for an honest review. This does not affect my opinion of the book or the content of my review.
I should state right away that this can be read as a stand alone but I personally think I would have enjoyed the story more knowing more of a back ground history of the characters and the story line but that is just me.
With that being said I did enjoy reading this book and it has peaked my interest in the series now. So this won't be a in depth review just because its book 5 in a series and I don't want to spoil it for anyone who might be reading this.
Ghost is a member of the Evil Dead MC. Ghost is just going about his daily life when he accidently bumps into his once step sister Jessie who is on the run and her life is in danger because she over heard a conversation that she shouldn't have. When she bumps into Ghost at a bar she tells him what is going on and he has taken it upon himself to protect her.
Ghost has a hard decision to make on how he will keep her out of harms way as well protect himself. He realizes that he has to keep her at arms length because of their past and he had already almost cross that line many years ago and doesn't want to cross it again. Its hard for Ghost to do because she has been that one person he couldn't get out of his head.
Growing up Jess entered Ghost's live when he father married her mother. He always thought of her as his step-sister until one day when she was a teen when they kissed. In his mind he knew it was wrong so he left. Can he resist Jess?
Ghost will do anything to protect Jess so when he informs his brothers of what Jess knows they come up with a plan and this plan makes Ghost feel uncomfortable, will he risk Jess to protect her? With Jess being in danger when guns go off will Ghost realize just how much he truly cares about her?
This isn't something that I typically don't read but I have to say it was a nice little change in my reading.
Have you read this series? Is it something I should continue to read if you have read it?