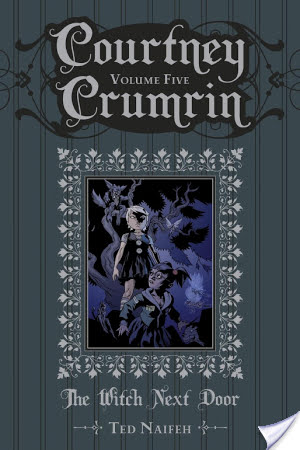 Courtney Crumrin, Volume 5: The Witch Next Door
Series:
Courtney Crumrin #5
by Ted Naifeh
Format:
Hardcover
Published by
Oni Press on May 14th 2014
Pages:
148
Goodreads
Genres:
Comics & Graphic Novels, General, Young Adult
The first five issues of the full-color Courtney Crumrin comic series are collected for the first time in a special hardcover edition! Holly Hart is new to Hillsborough and witchcraft. When her family moves in next to Courtney, the two girls quickly become friends. But as Courtney watches Holly making the same mistakes she once made, she begins to have second thoughts about teaching the girl magic. And when Holly sees the aftermath of the other children's
One of the good things about getting back into the library is being able to catch up on some graphic novels that I discovered last summer and imagine my surprise when I discovered that the next three volumes of Courtney Crumrin  were out. I quickly borrowed them because I wanted to catch up.
The Witch Next Door is volume 5 and they are super quick reads. It picks right up from where volume 4 left off which is really nice.
In this graphic novel a new girl (Holly) moves in and its right across from Courtney's uncle's house. Courtney is thrilled to finally have a friend and things are going really good until magic steps in between their friendship. Courtney and Holly get along so well because they both are deemed as outcast and appear to be exactly alike in manner and style of clothing. I think Holly is thrilled to finally have found a friend.
I don't want to say much more about the book because I can literally give it away. Its a really good read and if your a fan of dark graphic novels then I have to recommend this. It was nice to see how much Courtney has grown emotionally, mentally and magically.