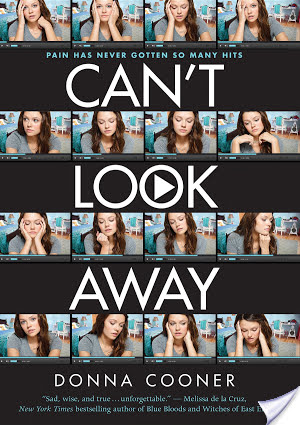 Can't Look Away
by Donna Cooner
Format:
Paperback
Published by
Scholastic Inc. on August 26th 2014
Pages:
272
Goodreads
Genres:
Adolescence, Dating & Sex, Death & Dying, Social Issues, Young Adult
Donna Cooner establishes herself as our own Jodi Picoult in this timely tale of sisters, loss, and redemption. Torrey Grey is famous. At least, on the internet. Thousands of people watch her popular videos on fashion and beauty. But when Torrey's sister is killed in an accident -- maybe because of Torrey and her videos -- Torrey's perfect world implodes. Now, strangers online are bashing Torrey. And at her new school, she doesn't know who to trust. Is queen bee Blair only being sweet because of Torrey's internet infamy? What about Raylene, who is decidedly unpopular, but seems accepts Torrey for who she is? And then there's Luis, with his brooding dark eyes, whose family runs the local funeral home. Torrey finds herself drawn to Luis, and his fascinating stories about El dio de los Muertos, the Day of the Dead. As the Day of the Dead draws near, Torrey will have to really look at her own feelings about death, and life, and everything in between. Can she learn to mourn her sister out of the public eye?
This is Donna Cooner's second book and it was just as good as her first one called Skinny. Which I read and review on my blog and you can read my review by CLICKING ON THIS TEXT.
I didn't realize she had a second book out until I was going through the Scholastic book club flyers. When I saw it I instantly ordered it. I read it right away. It was a fun quick read.
Torrey Gray is a 15 year old youtube beauty guru with a huge fan base who is dealing with the lose of her sister, Miranda who got hit by a drunk driver.
When you watch youtube stars you think that everything in their life is perfect and that is exactly what they want you to see and Torrey is not exception. She views all her subscribers as online friends and they are there to boost up her confidence and make her feel good.
What once brought joy to Torrey is now her downfall as all the haters are coming out and blaming Torrey for the death of her sister, saying it was her fault.
I am going to admit in the beginning I had a hard time warming up to Torrey because she came off as very vain and wanting to please the fans more then what her sister wants. Miranda had better things to do then be conned into taking photos of her sister at the mall. I am sure when Torrey started out she was humble but I think once those subscriber numbers increase she turned into this whole other person and I have noticed that in watching some youtubers.
In the beginning they are so humble and appreciate what they have but once they start growing its like they forget who they are and its all about getting more viewers and they loose who they truly are.
So I was wondering how this journey of moving to Texas would change Torrey and it was nice to see with some help of a good friend, Luis who helps her see things and helps her come to terms with the death of her sister.
But will Torrey come to terms with the lose of her sister?
Just remember everything you say and do on the internet lives forever.