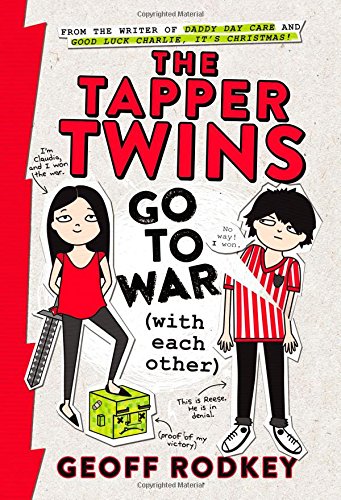 The Tapper Twins Go to War (With Each Other)
Series:
#1
by Geoff Rodkey
Format:
eARC
Published by
Hachette Children's Group on April 7th 2015
Pages:
224
Buy on Amazon
Goodreads
Genres:
General, Young Adult
Wars are terrible things. I know this because I've read about a lot of them on Wikipedia. And also because I was just in one. It was me against my brother, Reese. That might not sound like a war to you. Trust me. It was. This is the oral history of the terrible war between twins, Reese and Claudia Tapper. It began with a cruel and senseless sneak attack in the school cafeteria on Monday, September 8th, at approximately 8:27 a.m. Or possibly it began in the Tapper family kitchen, earlier that morning, with the greedy guzzling of the last brown sugar cinnamon toaster pastry. What really happened? It depends on who you speak to... This is a hilarious middle-grade comedy that's both totally timeless and completely up-to-the-minute.
I received this book for free from publisher/pr firm in exchange for an honest review. This does not affect my opinion of the book or the content of my review.
This was such a fun and quick read. I think I managed to read this in two sittings. As an adult I enjoyed reading this and I think it's a perfect read for the tweens and older.
Claudia and Reese are twelve-year-old twins. I think that Claudia and Reese were the perfect characters for the book as they were very believable and it makes you think the story is real and it could actually happen.
Claudia and Reese are your typical siblings we have been trying to one up each and to humiliate the other one. It makes you wonder who will get the upper hand?
I love the format of the book. Each chapter has a title which goes along with the dialog. Its sort of like a script which I have to say I enjoyed. Within chapters there is text messages, photos, hand written text, emails and so much more. Its very well done and it makes you want to continue reading it.
Claudia is the main voice of the book but other characters come out such as Reese, Sophie, Mom and Dad, Akash, Ashley and a few others. It was nice to see how each character plays an important part to the story line.
I loved the message behind the book and its one that kids can easily grasp. Even though Claudia and Reese were doing everything they could to humiliate their sibling they both realized that in the end everything they did has a consequence to it. Which kids need to realize.
This was such a fun read and it was nice to take a break in my regular reading. I think tweens and the little bit older ones would enjoy this. I know Michael plans on reading it especially once I mentioned Minecraft was in this.
This is also my first BEA Buzz Book for 2015.