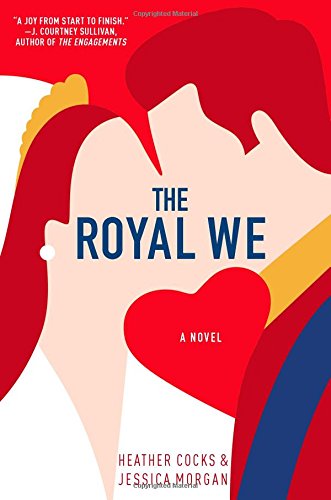 The Royal We
Format:
eARC
on April 7th, 2015
Pages:
464
Buy on Amazon
"I might be Cinderella today, but I dread who they'll think I am tomorrow. I guess it depends on what I do next."
American Rebecca Porter was never one for fairy tales. Her twin sister, Lacey, has always been the romantic who fantasized about glamour and royalty, fame and fortune. Yet it's Bex who seeks adventure at Oxford and finds herself living down the hall from Prince Nicholas, Great Britain's future king. And when Bex can't resist falling for Nick, the person behind the prince, it propels her into a world she did not expect to inhabit, under a spotlight she is not prepared to face.
Dating Nick immerses Bex in ritzy society, dazzling ski trips, and dinners at Kensington Palace with him and his charming, troublesome brother, Freddie. But the relationship also comes with unimaginable baggage: hysterical tabloids, Nick's sparkling and far more suitable ex-girlfriends, and a royal family whose private life is much thornier and more tragic than anyone on the outside knows. The pressures are almost too much to bear, as Bex struggles to reconcile the man she loves with the monarch he's fated to become.
Which is how she gets into trouble.
Now, on the eve of the wedding of the century, Bex is faced with whether everything she's sacrificed for love-her career, her home, her family, maybe even herself-will have been for nothing.
I received this book for free from publisher/pr firm in exchange for an honest review. This does not affect my opinion of the book or the content of my review.
The Royal We is by authors Heather Cocks and Jessica Morgan and this is their young adult novel. Their previous two books are Spoiled and Messy. I haven't read either of those books but I do own them. I think once I am going through boxes of books this summer I am going to dig them out and read them because I really did enjoy reading The Royal We. I should mention that The Royal We is a stand alone.
As a Canadian I love anything that has to do with the royal family. Many many many years ago when Princess Diana was alive and was just recently married her and Prince Charles came to Canada. I was lucky enough to go and see Princess Diana because the school brought us. I remember being completely in ah of her.
As I began reading the book I was literally thinking this has to be based around Prince Harry (Freddie), Prince William (Nick) and Kate Middleton (Rebecca). There was a lot of similarities to them. Which I had no problem with at all because I love watching them grow and become who they are today. You can see the huge influence Princess Diana had on those boys.
The story line also reminded me of Autumn Kelly who was a girl from my town who married a real life prince and that was Prince Peter Phillips, His mother is Princess Anne. Her mother just happens to be Queen Elizabeth II.
Now I want to say that I loved the book but I can't. I did enjoy reading the book. I think it took me longer to read this because at times I was reading and reading because I wanted to find out what was happening and then other times I felt like it dragged on more then it needed to.
I never once thought about dropping the book when it got slow because I was rooting for Rebecca the whole way through. I can't imagine how things quickly change in your life when you get involved with someone with that much status? It must be completely nerve wrecking and how much fun is it really when you need to be on your best behavior all the time because you know someone is watching you at all times?
Growing up we all wanted to meet and marry a prince and probably dreamed of what life would be like and in all honesty I don't think its as regal as they make it out to be and I would wish that on no one. Your life is no longer your own but I love how the new royals are stepping away from it and leading a more private life.
I would be interested to see if there will be a sequel to the book.