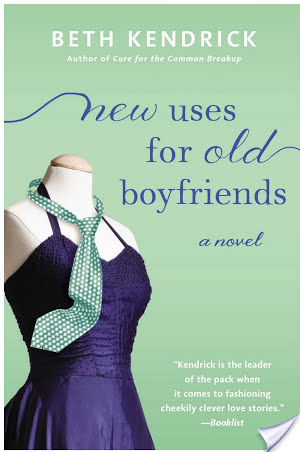 New Uses For Old Boyfriends
Series:
Black Dog bay #2
by Beth Kendrick
Format:
Paperback
Published by
Penguin on February 3rd 2015
Pages:
336
Buy on Amazon
Goodreads

Genres:
Contemporary Women, Fiction
After growing up in privilege and marrying into money, Lila Alders has gotten used to the good life. But when her happily-ever-after implodes, Lila must return to Black Dog Bay, the tiny seaside town where she grew up. She's desperate for a safe haven, but everything has changed over the past ten years. Her family's fortune is gone—and her mother is in total denial. It's up to Lila to take care of everything...but she can barely take care of herself.The former golden girl of Black Dog Bay struggles to reinvent herself by opening a vintage clothing boutique. But even as Lila finds new purpose for outdated dresses and tries to reunite with her ex, she realizes that sometimes it's too late for old dreams. She's lost everything she thought she needed but found something—someone—she desperately wants. A boy she hardly noticed has grown up into a man she can't forget...and a second chance has never felt so much like first love.READERS GUIDE INCLUDED
I received this book for free from publisher/pr firm in exchange for an honest review. This does not affect my opinion of the book or the content of my review.
This is the second book in the Black Dog Bay series and I have to admit at first I didn't realize it until I was reading it and a few characters names popped up that I am like I have seen their names before so I quickly had to check it out and yes this is the second book but let me tell you that you don't really need to read the first one, Cure For The Common breakup to follow along with this book.
Like I mentioned in my review for Cure For The Common Breakup, I have never read anything by Beth Kendrick before this and I am really interested in reading more because I really enjoy her writing. So I will be checking out her other books very soon.
Lila is the main character in New Uses For Old Boyfriends and she is living the dream life. She is married and is one of the host of a shopping channel. She thinks things are good until her husband divorces her and leaves her with barely anything. She decides to move back home and help her mother out since she recently lost her father.
Lila things that things are good for her mother and that there is enough money to take care of herself and possibly Lila but she quickly realizes thats not the case. Not only is Lila in financial trouble but so is her mother. Lila always thought that her father had everything in control but realizes things weren't as they seemed and it seems like her mother, Daphne who was once a model in her younger days has a shopping problem and it leaves them no choice but to have to sell the house in order to get out of the red.
Daphne wants nothing to do with that and fights every step of the way and its only when Lila discovers that the situation is more serious then expected. When Lila discovers all the vintage gowns and clothes hidden away she encourages her mother to sell them and once they realize there is a demand they thing that this could be the answer to their financial problems.
Now no book would be complete without a little romance and Lila has her share of it. Her mother has her sights set on Ben an old high school boyfriend that would be the perfect man for Lila. Lila at first thinks she could rekindle that romance but so discovers that Ben has his sights on someone else that he is hoping will work out and will it?
The second man, Malcolm, who she discovers by accident and who I have to say that I actually liked from the moment he was introduced. Back in high school Lila had snubbed him and he remembered it like it was yesterday he slowly chips away at her but will be win her heart?
I really enjoyed reading this book and it was a fun and quick read. The third book is called Put A Ring On It and its out November 2015 and you know I will be reading this when it comes out.