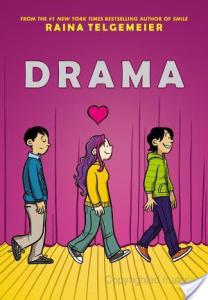 Drama
by Raina Telgemeier
Published by
Scholastic Inc. on September 1st, 2012
Pages:
240
Goodreads
Genres:
Adolescence, Comics & Graphic Novels, Friendship, General, Social Issues, Young Adult
Raina Telgemeier, the NEW YORK TIMES bestselling author of the Eisner Award winner, SMILE, brings us her next full-color graphic novel . . . DRAMA! Callie loves theater. And while she would totally try out for her middle school's production of Moon Over Mississippi, she's a terrible singer. Instead she's the set designer for the stage crew, and this year she's determined to create a set worthy of Broadway on a middle-school budget. But how can she, when she doesn't know much about carpentry, ticket sales are down, and the crew members are having trouble working together? Not to mention the onstage AND offstage drama that occurs once the actors are chosen, and when two cute brothers enter the picture, things get even crazier! Following the success of SMILE, Raina Telgemeier brings us another graphic novel featuring a diverse set of characters that humorously explores friendship, crushes, and all-around drama!
As I was doing a major clean trying to get the house ready for Christmas and having house guest I stumbled upon a bag of books that I read and never reviewed. Not quite sure why and the only thing I could think of was it was during one of my reviewing slumps.
I got this book for review back  in 2012 so I quickly reread it and I have to say it was a cute book. I normally don't read graphic novels and I don't know why because they are actually fun quick reads and I think it would actually break up my reading. Plus they make for a quick review when needed right?
I have read Raina's other graphic novels and really enjoyed them. I think if you have a child who is reluctant to read books that perhaps introducing them to a graphic novel would be a great start. Michael loves reading graphic novels and is now starting to collect and read comic books.
I love books where the title actually matches the book and this is a perfect example of that. As does the cover. I also love how bright and colorful the graphics are in this book. it definitely will appeal to the middle grade readers.
Callie eats, sleeps and breathes drama. Her whole life revolves around it and I love seeing that kind of passion in young people. Don"t you?
Callie is just like all of us book lovers who geek out over books and authors etc. You can totally relate to her and how she is.
I loved Callie because for someone so young she was brave and didn't give a crap on what others thought of her and I wish more kids could be like that. She liked what she liked and didn't care what others thought. Which it should be if you love something that perhaps your friend doesn't that is okay that won't change your friendship. I find too many kids are losing that passion and just following and doing what their friends are doing and its taking away from who they are. I stress this all the time with Michael and its okay to like what you like.
I don't want to talk to much about the book because I will end up giving the book away. I will say that i know this is a very sensitive subject with some parents (if you don't know what I mean look at the amazon reviews) and all I want to say is that we love who we love no matter what and i think we are now so much more advance then we were 20-30 years ago. Reading this book won't make your child gay and I think as parents we need to teach our children that just because someone is gay that there is nothing wrong with them. They are just like us and they deserve to have someone love them too.