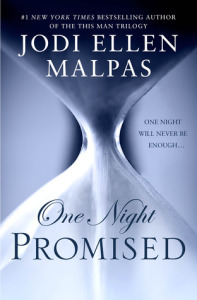 One Night
Series:
One Night
by Jodi Ellen Malpas
Format:
Paperback
Published by
Grand Central Publishing on 2014-08
Pages:
402
Goodreads
Livy notices him the moment he walks into the coffee shop. He's heart-stoppingly stunning, with a blue-eyed gaze so piercing she's almost too distracted to take his order. When he walks out the door, she thinks she'll never see him again. Then she finds the note he left on his napkin . . . signed M.
All he wants is one night to worship her. No feelings, no commitment, nothing but pleasure. Every defense mechanism Livy has adopted during her solitary life is at risk of being obliterated by this confounding man. He's obnoxious but well-mannered. He's a gentleman but aloof. He's passionate but emotionless. Yet the fascination is so powerful, Livy can't deny him... or herself.
M awakens something in Livy, something deep and addictive that she never knew existed -- and that she fears only he can satisfy. But she senses that behind the fast cars, fancy suits, and posh apartment, he's aching inside. To have him, body and soul, she'll have to brave his dark secrets. Delving into his world and breaking down his defenses become her obsession - an obsession that could shatter her heart beyond repair..
I received this book for free from publisher/pr firm in exchange for an honest review. This does not affect my opinion of the book or the content of my review.
I feel as though I have been on a reading slump lately and thanks to One Night Promised I think I am now out of that reading slump. Thanks HBG for sending me this book. I absolutely loved it and pretty much devoured it in two nights.
One Night Promised is the first book in Jodi's newest trilogy. The second book is called One Night: Denied that is out now and I am going to have to go and buy this one very soon and finally the third book is called One Night: Unveiled and its coming out February 2015. Thankfully its not too long of a way right?
As you can tell from my blog I don't read and review alot of erotic romance books. Its just not something that really interests me. So at first I wasn't going to read this book but when I read the back of the book I have to admit I was a little bit sucked it from the description. I figured what did I have to loose right? The book was sent to me unsolicated so I really didn't have any commintment to read it. Let me tell you once I started it I was hooked.
I pretty much devoured this book in the course of two days.
One of the great things is that Jodi has another series of books out called The Man that has gotten rave reviews and I read some of the reviews are so so for this new one. Well since I never read this series or heard of this author before I went into this with no expectations and I walked away discovering a new author that is going to make me want to go out and buy this series and her future books.
The main character is Olivia or Livy. She is a 24 year old girl living with her grandmother. She has one best friend who is Gregory. She doesn't do alot and I was curious to know why. There is more to this story then meets the eye. Livy has just started working in a bistro and is trying to master the cappachino machine when the most gorgeous man walks in and orders a coffee. Olivia is drawn to him and messes up his order. He leaves behind a note saying it was the worst coffee ever. I think had it been me I would probably be a little bit pissed, wouldn't you?
This mystery man is M aka Miller. He is one cute guy with a ton of secrets that will rock your socks off. All we know is that he is a successful business owner and has a private club. There is more to him then meets the eyes let me tell you that.
Livy and Miller bump into each other quite alot in the beginning of the book and you can tell they are completely drawn to each other but every time Livy seems Miller he is always with the same woman. Who is this woman? Is Miller attached and does he basically want his cake and eat it too?
I know as a reader I was pretty curious to know about this Miller guy.
Eventually Livy gives in and gives him what he wants but how will she handle her jealousy? Should she be jealous?
You can tell that there is this connection between the two and its building up but how will Olivia react when she finds out exactly who Miller is and what he does?
I can't wait for the next book because this ended in a cliff hanger and I have to say that I loved how it was built up. I mean through out the course of the book you knew something was up but just couldn't place your finger on it and I have to say that I actually thought one thing and was surprised that it wasn't that.
Check back to see my review on the next book.