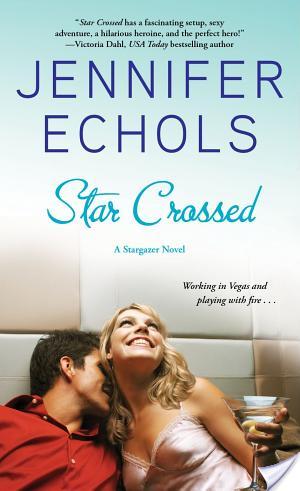 Star Crossed
Series:
Star Gazer #1
by Jennifer Echols
Format:
Paperback
Published by
Simon and Schuster on 2013-02-26
Pages:
384
Goodreads
Genres:
Contemporary, Fiction, General, Romance
He said . . . She said. Publicist Wendy Mann has always competed hotly with her rival Daniel Blackstone, but this time they're headed for a collision. Wendy's job is on the line if she doesn't save the image of a spoiled young starlet who's posting provocative pictures of herself all over the Internet in a snarky attempt at revenge on her former boyfriend. Daniel is representing the ex, a onetime teen heartthrob who never grew up. With the feuding Hollywood pair scheduled to appear on the same Las Vegas awards show, Daniel and Wendy are determined to do whatever it takes to defend their own clients. Unfortunately, the chemistry between Wendy and Daniel is even more explosive than that of their Hollywood stars. L-O-V-E was always a four-letter word for these two ultra-competitors; they never counted on the scorching heat that erupts between them. But Wendy's high-gloss exterior hides a dark past—one that's lurking behind the bright Vegas lights. Their careers are on the line, and so is Wendy's life. . . .
Jennifer Echols is another author that I have been meaning to read and just never did. I am pretty sure I have quite a few of her books sitting in my TBR pile.
After reading Star Crossed I must admit that I think I need to push some of those books up on my tbr list.
Star Crossed is written in points of view of the two main characters Wendy and Daniel.
Wendy is a very blunt person and tells it like it is. She is very vocal and is no holds barred when it comes to her. Wendy has that dream job that I am sure a few people would love to have. She is a publicist to the stars and she is good at her job. For over six years she has taken on each client head on and saves them from public disasters. She manages to safe their careers and keep their image in tact. Finally one client is about to be the death of her and manages to almost get herself fired, with some quick thinking Wendy manages to save herself. With this save comes the consequence of having to save another client or risk losing her job. Her client is none other then Lorelei.
Lorelei is a young Hollywood starlette that is basically ruining her own career with posting inappopriate pictures of herself and body parts online and publicly trashing her ex. I have to say that Lorelei reminded me of Lindsey and Brittney in so many ways. I wonder if thats who inspired Jennifer?
Wendy has to fly out to Las Vegas to meet up with her client. Its there that she bumps into Daniel. Daniel is someone from Wendy's past and to this day she still dislikes him because he took away an award she was set to get. You can instantly feel the connection that is there. To make matters worse Daniel is representing Lorelei's ex, Colton. He is hoping to bring Colton down and get him to act his age.
The difference between the two of them is that Wendy loves her job and Daniel doesn't. The only reason he is doing this is because his father owns the company and he is hoping to get control of it.
I really enjoyed the book and I thought there was enough drama and suspense (a stalker is after Wendy but why?) that kept me reading to find out what would happen. I like books like this.
Can Wendy possibly save Lorelei's career before she destorys it? Will Daniel be able to safe Colton and help him to act is age? Will Wendy and Daniel put thier differences aside and realize they were meant to be together?
I really enjoyed reading Star Crossed so I am excited to see where this story line will go in Playing Dirty. Have you read the book? What did you think?