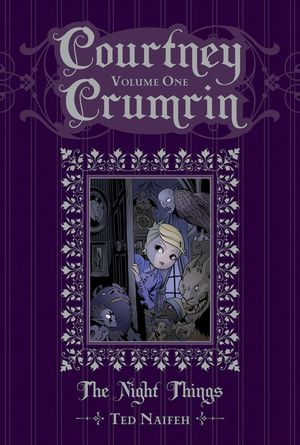 Courtney Crumrin And the Night Things
Series:
Courtney Crumrin #1
by Ted Naifeh
Published by
Demco Media on 2005-04-01
Pages:
120
Goodreads
Genres:
Comics & Graphic Novels, Contemporary, Fantasy, Fiction, General
Presenting the initial Courtney Crumrin miniseries in a new digest-sized format. Courtney's parents have dragged her out to a high-to-do suburb to live with her creepy Great Uncle Aloysius in his spooky old house. She's not only the new kid in school, but she also discovers strange things lurking under her bed.
One of the best things about going to the library is being able to spend time and just looking around. I tend to do this when Michael is at the library doing an activity. I just walk up and down all the isles to see what is there.
It seems like this summer was the summer of discovering comics (for Michael) and manga's/graphic novels for me. I spend almost an hour and a half just going through the adult and young adult graphic novels/manga's. I managed to find some really good ones that I will be reviewing this month.
Every Friday this month I will be reviewing the Courtney Crumrin series.
Flipping through the book I have to say the illustrations are really nice. You can tell this isn't a cute little book but a bit darker then a kids manga. According the the retail sites they say its good for kids 7 and up but it was labelled in the young adult section at our library. I don't think I would let Michael read it because it is a bit dark and not really age appropriate in my opinion. Plus there is some language (I am sure he knows the words anyway from school) and some sexual content. Nothing graphic but still he is only 11.
This is a special edition bound up book of the first four comics. The other graphic novels that I will be reviewing are in this same format. What a great way to read a comic isn't it?
The graphic novels are about a girl named Courtney. She hates people, has no friends, is a loner and is being forced to move and live with her uncle Aloysius because her parents are living beyond their means and want to live the life of their wealthy friends and climb the social ladder and they feel this will do it for them.
Courtney is not impressed and she knows something is up with the house and her uncle when she starts seeing mysterious things out of the corner of her eye. Not quite sure what to make of it she begins to investigate and stumbles into her uncle's study and discovers a book. This book isn't like any other book and it explains what goblins are and so much more.
With this knowledge she decides to trap this goblin, Butterworth (who by the way also narrators  the story). Courtney also realizes this book can change her life drastically and could make living there much more enjoyable. She decides to cast a spell that will help her out at school. What Courtney doesn't realize is that some times something so little can turn into something more. All of a sudden Courtney is Ms. Popular. Courtney doesn't like this and has no idea what to do because she will be in trouble if her uncle finds out about this.
As the story progresses her parents realize that they will do anything and everything to be on that social path even if it means having Courtney babysit a baby so that the parents can hang out. Sure sounds simple enough right well its not all peachy keen when the baby is swapped for a changeling. The baby was taken to be sold in an auction and now Courtney is a race to safe that baby before its too late. Can she do it?
Finally the last comic in the book was a bit heart breaking. Courtney has gotten sick and she is becoming weaker and weaker. Courtney decides that perhaps if she got out she would get better but quickly realizes that things aren't what they seem. What will Courtney do when she finds out what has happened since she has been sick?
This made for a fun and quick read. I am curious to see what happens in the next book and the ones after that.