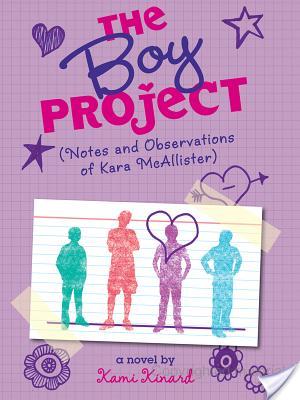 The Boy Project
by Kami Kinard
Format:
Hardcover
Published by
Scholastic Inc. on 2012-01-01
Pages:
272
Goodreads
Genres:
Friendship, General, Humorous Stories, Social Issues, Young Adult
For anyone who's ever felt that boys were a different species.... Wildly creative seventh grader Kara McAllister just had her best idea yet. She's going to take notes on all of the boys in her grade (and a few elsewhere) in order to answer a seemingly simple question: How can she get a boyfriend? But Kara's project turns out to be a lot more complicated than she imagined. Soon there are secrets, lies, and an embarrassing incident in the boy's bathroom. Plus, Kara has to deal with mean girls, her slightly spacey BFF, and some surprising uses for duct tape. Still, if Kara's research leads her to the right boy, everything may just be worth it. . . . Full of charts and graphs, heart and humor, this hilarious debut will resonate with tweens everywhere.
This has been a book that has been on my wishlist since it first came out so I was happy to see it sitting on the shelf at my library.  The library is a great place to find books that you have sitting on your wishlist to read and I am making more of an effort to use the library for that purpose.
Kara was a character I could totally have related to if I was her age. I remember being in school and feeling like the only girl who didn't/never have/had a boyfriend. The only difference between the both of us was that Kara decided to take matters into her own hands where I would have been a complete chicken.
Kara decides that in order to get anywhere you need to observe and that she does. She takes notes of the guys in her class, school and around here. Then she also observes the girls and makes notes. I loved the cute little names she would use such as Maybelline and this was in reference to the girls who wore to much make up and the Vines were the girls who were always hanging around the guys. You remember those girls right?
Reading this book I wondered where was this book when I needed it. I think so many younger girls would appreciate this book because Kami doesn't make it to be this one big happy ever after thing where Kara gets what she wants she shows the reader that we all make mistakes and face embarrassing things but its okay because thats what makes us who we are.
I love books like this because it makes you realize that everyone is human and that we all make mistakes or get into embarrassing situations. I think we learn from those moments in time. I know in school I did a lot of embarrassing things (and at the time I wanted to die and run away) but I think it made me who I am today and the friends I still have in my life due to that says alot and those ones are truly friends. (You know who you are)
I also loved how Kami included notes, charts and graphs to the book because I feel as though it added to the book. It was sort of like reading a diary at times and I honestly like those kind of books.
I should also let you know that book 2 is out and its called The Boy Problem and its Kara's BFF Tara's story and its sort of the same idea. I will need to check this one out too.
Have you read this book?