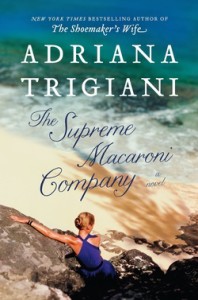 The Supreme Macaroni Company
Format:
Hardcover
Published by
Harper Collins USA on November 2013
Pages:
352
Goodreads
In The Supreme Macaroni Company, Adriana Trigiani transports readers from the cobblestone streets of Greenwich Village to lush New Orleans to Italy and back again while exploring the tricky dynamics between Old World craftsmanship and New World ambition, all amid a passionate love affair that fuels one woman's determination to have it all.

For over a hundred years, the Angelini Shoe Company in Greenwich Village has relied on the leather produced by Vechiarelli & Son in Tuscany. This ancient business partnership provides the twist of fate for Valentine Roncalli, the schoolteacher turned shoemaker, to fall in love with Gianluca Vechiarelli, a tanner with a complex past . . . and a secret.

But after the wedding celebrations are over, Valentine wakes up to the hard reality of juggling the demands of a new business and the needs of her new family. Confronted with painful choices, Valentine remembers the wise words that inspired her in the early days of her beloved Angelini Shoe Company: "A person who can build a pair of shoes can do just about anything." Now the proud, passionate Valentine is going to fight for everything she wants and savor all she deserves—the bitter and the sweet of life itself.

Romantic and poignant, told with humor and warmth, and bursting with a cast of endearing characters, The Supreme Macaroni Company is a sumptuous feast of delights: an unforgettable narrative about family, work, romance, and the unexpected turns of life and fate.
I received this book for free from publisher/pr firm in exchange for an honest review. This does not affect my opinion of the book or the content of my review.
I just quickly want to thank Laura (Library of Clean Reads) and Italy Book Tours for allowing me to be a part of this tour. I actually received The Supreme Macaroni Company late last year and I never got around to reading it until now.
I first heard about The Supreme Macaroni Company last year when I was lucky enough to go to BEA and get invited to Adriana's house for a breakfast with a few other bloggers. I was thrilled to have been invited because I am a huge fan of her books. I just have to say that Adriana is amazing both as a person (who invites complete strangers into your home? Thank you Adriana) and as an author. I was in complete aw of her before meeting her and more so after meeting her. She is completely genuine what you see is what you get. She opened her home to us and made us all feel completely welcome like we were her dear friends. I have enclosed a photo that was taken that morning.
The Supreme Macaroni Company is the third book in the Valentine trilogy (Very Valentine and Brava, Valentine).
I have read the previous books but I think you could read this as a stand alone if you haven't read the previous two. I found there to be enough information to get you through the book. Plus for me it was a while ago that I read the previous two so I forgot alot about the books but reading this I didn't feel like I was missing anything.
While I was reading the book I felt like I was a part of the story because Adriana can transport you right into her book world. The way she rights literally makes you feel like you there. She describes it all so perfectly.
The Supreme Macaroni Company begins almost where Brava, Valentine has left off. Gianluca (who is 54, lives and works in Italy) has just proposed to Valentine who is 36. Valentine pulls every story out of the book not to accept his proposal but Gianluca manages to convince her. You can see that he truly loves her and would give her the world.
Their engagement is short and within a few months they are married. Her family is thrilled because she is the last one to get married and its a big deal in the Italian community and family.
Now if you are expecting a day at the beach and everything is peachy then you are wrong. They go through ups and downs and that is very common in marriage. The only thing that bothered me was how Valentine and Gianluca never had any discussions before getting married about where they would live, working, family etc. If your married you know how important that is.
I don't want to spoil the book too much if you have yet to read this and want to and its always hard when you review the second, third etc book in the series.
So all I will say is will the age difference impact their relationship? What happens when Gianluca yearns to go back to Italy? Will Valentine make the move or demand they stay in NYC?
After reading the book I wish I was in NYC.
Meet the Author:

Adriana Trigiani is an award-winning playwright, television writer, and documentary filmmaker. Her books include the New York Times bestseller The Shoemaker's Wife; the Big Stone Gap series; Very Valentine; Brava, Valentine; Lucia, Lucia; and the bestselling memoirDon't Sing at the Table, as well as the young adult novels Viola in Reel Life and Viola in the Spotlight. She wrote the screenplay for Big Stone Gap, which she also directed. She lives in New York City with her husband and daughter.

Connect with Adriana here: adrianatrigiani.com
Twitter: @adrianatrigiani
Facebook: facebook.com/adrianatrigiani
Book Tour Schedule:

Aug 4 –   Suko's Notebook – review
Aug 4 –   Ivory Owl Reviews – review
Aug 5 –   I'd Rather Be At the Beach – review
Aug 5 –   One Frugal Girl – review
Aug 6 –   Studentessa Matta – review
Aug 7 –   Cindy's Love of Books – review
Aug 7-    Savings in Seconds – review
Aug 8 –   Moonshine Art Spot – review
Aug 11 – Il Mio Tesore – review
Aug 11 – Cherry Blossoms – review
Aug 12 – PIX Me! Photography – review
Aug 12 – Lady in Read – review
Aug 13 – Rockin' Book Reviews – review
Aug 13 – Celticlady's Reviews – review
Aug 14 – View From the Birdhouse – review
Aug 15 – Melina's Book Blog – review
Aug 15 – Library of Clean Reads – review