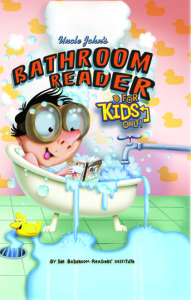 Uncle John's Bathroom Reader For Kids Only
Series:
Uncle John's Bathroom Reader
Format:
Hardcover
on April 8th 2014
Pages:
288
Goodreads
Here is an exciting chance to own the very first Uncle John's Bathroom Reader For Kids Only! in a hardcover edition with all new illustrations! When our younger readers demanded a Bathroom Reader of their own, Uncle John put together this brain-boggling easy-to-read collection of facts, fads, quotes, history, science, origins, pop culture, mythology, humor, and more! Plus it's full of wacky and fun illustrations and Uncle John's famous "running feet" — those fun and fascinating facts on the bottom of every page. Curious young readers will learn about the real Dr. Seuss, baseball superstitions, the birth of The Simpsons, how carnival games are rigged, the history of dining on scorpions and tarantulas, shocking truths about thunder and lightning, and disgusting bodily functions like ear wax production and digestion (and why they're important), and much, much more!
I received this book for free from publisher/pr firm in exchange for an honest review. This does not affect my opinion of the book or the content of my review.
Get a Copy:
amazon | Uncle John's Online Store
I have read a few of the Uncle John's Bathroom Reader books over the years and have always enjoyed them so when I saw that Kismet Book Tours was looking for hosts on this tour stop I had to jump on board because I knew that Michael would get a kick out of reading this book.
It was so cute to see Michael all curled up on the couch reading the book. I was trying to get a picture but every time I tried to take one its like he knew and would put the book down. When it comes to cameras he has a sixth sense about them.
Michael said he loved how the book was divided up into sections. I told him that he didn't have to read it like a book but he said he wanted to read it like that from cover to cover the first time and then perhaps after that he would go back and read it all over the place.
Michael said he also loved that on the very bottom of each page there was a piece of useful information such as did you know that the Statue of Liberty's eyes are 2 1/2 feet part?
Did you know that an average 2,220 popsicles are eaten in the US every minute so by the time I am done this review there will have been an average of 66,600 popsicles consumed.
I think this is a great book to pick up for your children because they will get a blast out of reading it. There is so much jammed packed that it will keep the kids entertained for hours with jokes, game ideas, facts, quotes, faniliar phrases, tongue twisters,trivia,  and so much more.
Michael has decided that he is going to keep this in the car so that when we are out and about he can pick this up to read.
I know one evening after Michael went to bed I picked it and was reading it. Its just like the adult ones but geared towards kids. Some of my favorite were the movie bloopers (did you know that in the movie Aladdin, Aladdin and Jasimine sing "A whole New World" they pass in front of a full moon but when they near the water the reflection is of a crescent moon), the Uncle John Brain Ticklers ( these made you really think), I want my MTV (do you remember the first video that was ever played on MYV?), the tongue twisters, and so much more.
You literally could spend hours reading and rereading this book and I am sure we will be. This definitely makes for a great traveling book and I am sure with our two upcoming short trips planned that we will be reading and laughing over this book in the car.
Thanks Kismet Book Tours for allowing me to be on the tour to promote this book.
About The Author:


Website | Twitter | Facebook | Pinterest | Google+
The life of Gordon "Uncle John" Javna, editor-in-chief and publisher of the Uncle John's Bathroom Reader series, reads like one of his books. There's a lot of fun, intriguing—often odd—information lurking around every corner. He went to art school, and then went on to become a musician, real-estate developer, writer, restaurateur, president of a pre-school, brew pub owner, and editor—not all at once, mind you, but he has been all of these things.
Eventually, though, he realized that because of his love of fascinating facts (and being a bathroom reader himself), he was naturally suited, perhaps even destined, to bring the joy of trivia to the world in a fun, informative way. He assumed the pseudonym Uncle John for the Bathroom Reader series and since then, Uncle John's Bathroom Reader has become the longest-running, most popular series of its kind in the publishing industry. To date, there are more than 15 million Uncle John's Bathroom Readers in print and his fanatical flock of followers span from Australia to the United Kingdom and beyond.
Guided by their obsession with unusual trivia, amazing origins, and forgotten history, Gordon "Uncle John" Javna and his staff at the Bathroom Readers' Institute have made Uncle John's Bathroom Readers a must-have for book and gift stores worldwide for over two decades. Gordon continues to expand his porcelain province from his throne room in Ashland, Oregon.
Tour Details
Gordon Javna and Uncle John's Bathroom Reader For Kids Only! Collectible Edition will be on a 3 weeks Tour with lost of funny post and interviews with Gordon Java! Don't miss to join this tour!
Monday, June 30th – Candace's Book Blog

Wednesday, July 2nd – Proud Book Nerd
Thursday, July 3rd – Bumbles and Fairy-Tales
Friday July 4th – Cassandra M's Place

Monday, July 7th – Sweet Southern Home
Tuesday, July 8th – Confessions of a Book Addict
Wednesday, July 9th – Little Red Reads
Thursday, July 10th – Me, My Shelf and I
Friday July 11th – Bewitched Bookworms
Monday, July 14th – Kindle and Me
Tuesday, July 15th – Snowdrop Dreams of Books
Wednesday, July 16th – Hott Books
Thursday, July 17th – alwaysjoart
Friday July 18th – Captivated Reading