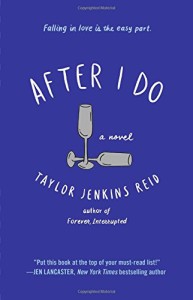 After I Do
by Taylor Jenkins Reid
Format:
eARC
Published by
Simon and Schuster on 2014-07-01
Pages:
352
Goodreads
Genres:
Contemporary, Contemporary Women, Family Life, Fiction, General, Romance
From the author of Forever, Interrupted—hailed by Sarah Jio as "moving, gorgeous, and at times heart-wrenching"—comes a breathtaking new novel about modern marriage, the depth of family ties, and the year that one remarkable heroine spends exploring both.
When Lauren and Ryan's marriage reaches the breaking point, they come up with an unconventional plan. They decide to take a year off in the hopes of finding a way to fall in love again. One year apart, and only one rule: they cannot contact each other. Aside from that, anything goes. Lauren embarks on a journey of self-discovery, quickly finding that her friends and family have their own ideas about the meaning of marriage.
These influences, as well as her own healing process and the challenges of living apart from Ryan, begin to change Lauren's ideas about monogamy and marriage. She starts to question: When you can have romance without loyalty and commitment without marriage, when love and lust are no longer tied together, what do you value? What are you willing to fight for?
This is a love story about what happens when the love fades. It's about staying in love, seizing love, forsaking love, and committing to love with everything you've got. And above all, After I Do is the story of a couple caught up in an old game—and searching for a new road to happily ever after.
I received this book for free from publisher/pr firm in exchange for an honest review. This does not affect my opinion of the book or the content of my review.
Its hard to believe that I am almost half way done with the Book Sparks Summer Reading Challenge. This is book number seven of the challenge.
Are you enjoying your summer so far? Reading any good books? Well if your looking for another fun one to read to your pile let me suggest After I Do.
This is my first time hearing and reading Taylor's books and I have to say that after reading this I am curious about her other book. Have you read it? What do you think?
After I Do is the story of Lauren and Ryan. The beginning of the book gives us some before insight such has how they met, how they feel in love and finally their marriage. Which is really nice because you  begin the journey without a million and one questions.
Like in every marriage there is a honeymoon stage where everything is bliss and then bam comes reality so to speak where everything that Lauren and Ryan envisioned turns up side down and happily ever after isn't always the real world.
With so many people getting married so quickly and then divorcing even faster its sad that they don't take it more seriously. I think growing up I learned from my grandparents that it will never be easy and you have to work for it. I agree with them. Marriage isn't easy and I admit at times I am sure we wanted to throw in the towels but we didn't and we worked through it.
For Lauren and Ryan its almost like divorce isn't the option and I wish more people would have that kind of mentality. Don't you agree?
So instead of divorcing right away they agree to spend a year apart from each other with no communication from each other. In hopes that they perhaps could fall back in love with each other.
As I sat and read this book I can honestly say at times I agreed with Lauren and I could relate to what she was going through and her emotions I am sure as married women can relate to them. No marriage is one hundred percent perfect. I was sitting there nodding my head. I have been married for almost 14 years and I love him dearly but I have to admit there is things that really annoy me that make me cringe (such as when he cuts something its like he is sawing wood agh) but would I change anything? No, I agree its not always perfect but hey if he can put up with me then he is a keeper 🙂
Lauren is a strong woman and isn't afraid to ask for help when needed and she sought advice from friends and family along her journey that at times made her question things. It was nice to see Lauren come out being stronger then when she went in and she learned that she could stand on her own two feet and that it would all be okay.
I could go on and on about the book but all I will say is if you are looking for a little something different to read this summer then I highly suggest this. I am sure this will be a book I will reread again.
Thanks Book Spark for allowing me to be a part of this summer reading challenge.