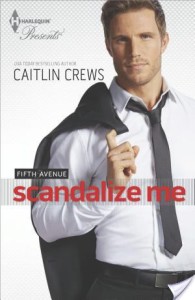 Scandalize Me
Series:
Fifth Avenue #2
by Caitlin Crews
Format:
ARC
Published by
Harlequin on 2014-07-01
Pages:
272
Goodreads
Genres:
Contemporary, Fiction, Romance
TEN YEARS AGO ONE DEVASTATING NIGHT CHANGED EVERYTHING FOR AUSTIN, HUNTER AND ALEX. NOW THEY MUST EACH PLAY THEIR PART IN THE REVENGE AGAINST THE ONE MAN WHO RUINED IT ALL.
Hunter Talbot Grant III, sports figure du jour, wealthy beyond measure and disreputable by choice, has cultivated a reputation that masks the shadows of his past. When the opportunity to ensure financial destruction for Jason Treffen arises, he can't refuse. But first he must shake off the woman sent to tame him!
Zoe Brook, PR agent extraordinaire, never fails to transform a tarnished star. And Hunter's no different. Except there's a catch. Beneath their scorching mutual attraction, Zoe has a secret—she's also been on the wrong side of Jason Treffen, and she has as much of a taste for revenge as Hunter does!
I received this book for free from publisher/pr firm in exchange for an honest review. This does not affect my opinion of the book or the content of my review.
Scandalize Me is the second book in the Fifth Avenue trilogy and this one is written by Caitlin Crews who is another new to me author who has written several other romance books.
It was on her site http://www.caitlincrews.com  that I noticed that the UK covers for this series is different from the US ones. The only difference is that on the bottom of the cover there is various scenes from NYC and I am honestly tempted to try and order them online just for that. Is that crazy of me?
I just want to let you know that Scandalize Me isn't out yet and it won't be released until June 24th. I was given an ARC of the book for my review today as part of the blog tour for this new series.
In Scandalize Me we meet Hunter. I think Hunter to date is the ultimate bad boy. He comes from a wealthy family but in his own means is wealthy himself. It was always thought that that he would end up running the family business but instead went the way of an NFL career. Hunter has moved back to NYC after being kicked out the NFL and is going through numerous lawsuits. Hunter is alone as he is estranged from his family and has basically pushed all his friends away. To get through life he has numbed himself and would prefer to keep it that way.
I think all this pain he has, has to deal with Sarah and her suicide. Sarah and Hunter use to date until she called it off and like any typical guy he thought the reason why she ended their relationship was because of another guy. This is probably where Sarah was in with  Jason. When Sarah tried to get Hunter to help her he ignored her and since that day this has been a burden on him. We all go through the what ifs right?
Just like in the previous book, a girl enters the scene and her name is Zoe. Her entering the scene is much different then the previous one because she has purposely hunted down Hunter. She lets him think that she is there to change is image but Hunter knows something isn't right. Hunter is determined to keep things as is and feels that he isn't worth saving or changing. But you can see gradually he is intrigued by her and wants to know what is really up.
Yes there is more to Zoe then Hunter realizes and what will he do when he finds out? Will Hunter and Zoe team up wot plot their revenge on Jason?