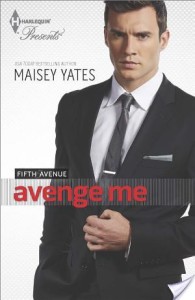 Avenge Me
Series:
Fifth Avenue #1
by Maisey Yates
Format:
ARC
Published by
Harlequin on 2014-06-01
Pages:
264
Goodreads
Genres:
Contemporary, Fiction, Romance
TEN YEARS AGO ONE DEVASTATING NIGHT CHANGED EVERYTHING FOR AUSTIN, HUNTER AND ALEX. NOW THEY MUST EACH PLAY THEIR PART IN THE REVENGE AGAINST THE ONE MAN WHO RUINED IT ALL.
Austin Treffen was born into a world of privilege, but behind its gilded doors lies a corruption so sordid New York's elite would never believe it—especially as his infamous philanthropic father is at its core! With everything he believed in shattered, how can Austin take down his father—risking his family name and those he loves—without any proof?
Until one earth-shattering night with Katy Michaels unlocks not only their deepest, most passionate desires but also the key to bringing Jason Treffen's reign to an end. But with an intense sexual attraction that combines a heady mix of exquisite pleasure and sublime pain, will they satiate their thirst for revenge and each other…or lose themselves forever in the darkness?
I received this book for free from publisher/pr firm in exchange for an honest review. This does not affect my opinion of the book or the content of my review.
If you are a every day reader of my blog you know that I don't read alot of romance books and honestly for me its not a genre I read alot of and that is a personal choice but every once in awhile there is that one romance book that I really want to read and I do.
This is the case today, tomorrow and Wednesday when I will be reviewing all three books in the Fifth Avenue series that is being released by Harlequin in June, July and August.
With this trilogy there is three different authors writing each characters story but they are all connected. How do I feel about that well you will just have to wait till I finish the series. I am actually kind of happy that I am on this tour because I don't have to wait until August to share my thoughts on that with you.
When I first got asked to be a part of the tour I quickly hopped on board because they all take place in my absolute favorite city…..New York City. After reading Avenge Me I quickly missed NYC and it makes me yearn to go back very soon. Sadly I don't think May 2015 will come fast enough.
When I went looking to to see if Maisey wrote any other books I noticed that she wrote the prequel Take Me. Take Me tells the story  before the trilogy starts. Its currently available for free in the kindle store. Now do you have to read this before the series probably not but for me its always a must only because I like to know as much as I can from the characters.
So before doing this review I have never read anything by Maisey so its nice to go into a book with a clean slate with no expectations. Well let me say once I started reading her books I was quickly impressed and really enjoyed reading her stories.
This was a pretty quick read and I managed to read it pretty much in one sitting with a span of a few hours.
In Avenge Me (book one) we meet Austin Treffen. He is a very successful business man and lawyer. He comes from a very wealthy family and he has worked hard for his own wealth. Looking at Austin you think he has the world by the neck but on the inside he is struggling with the the past. Ten years ago one of his very best friends committed suicide and he didn't do all that he should have done at the time. The worst part the person he looked up to and admired is the person responsible.
Ten years ago Austin was a spoiled rich boy who only cared about himself and he was one of the biggest playboys back then. When his friend, Sarah came to him with her problems and needed help be basically didn't give a damn. It was all about him and no one else which I think is typical with most young people right?
Well fast forward ten years later Austin discovers that his father, Jason, who is also a very successful lawyer and a big advocate for abused women is actually the one behind Sarah's death. On the outside he is this great man who is doing all that he can for people and these abused women. He was too good to be true in my opinion but then we learn his deep dark secrets. Can you imagine what it could be?
I wanted to put myself in the book and shot the father because I disliked him with a passion. How can someone who claims to be a big advocate for abused women abuse women? When Austin discovers this it makes him sick to his stomach and he has  sworn he will do anything and everything to make sure his father pays for what he has done.
Enter Katy. A very beautiful girl who has an instant attraction with Austin. Katy had the exact opposite up bringing to Austin. So you can see why Katy wants to avenge her sister's suicide. At first Katy  and Austin have no clue how each one is tied to the other and when they find out, will that change anything or just bring them closer?
I am looking forward to seeing  how this storyline will play out over the next two books.
Has anyone else read this book?